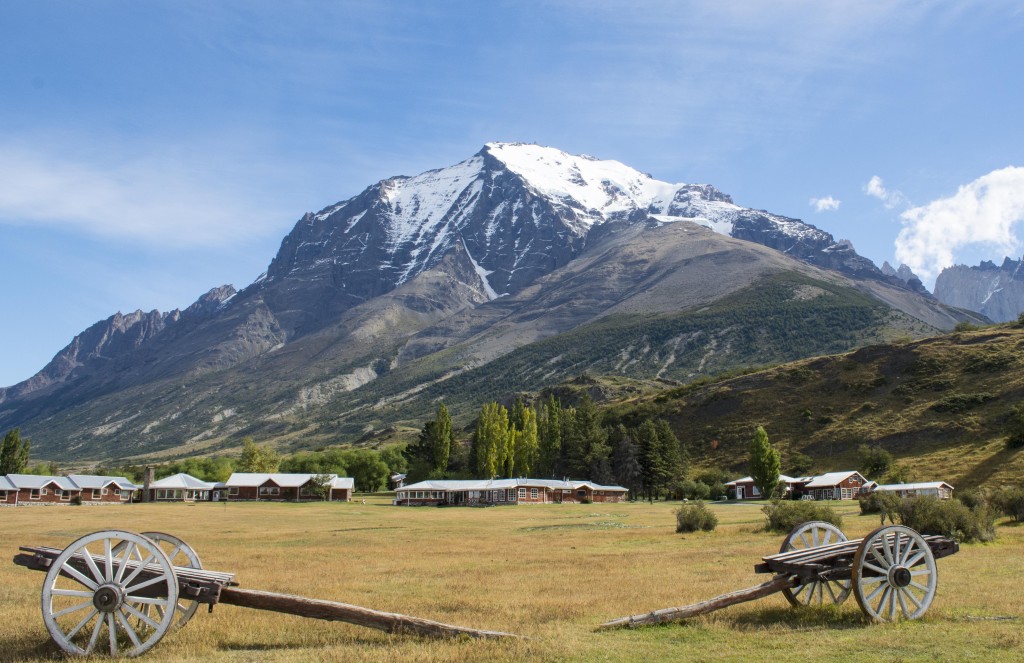 Getting to Torres del Paine can be a bit of a mission, but it's well worth it.
If you don't have your own vehicle then you'll need to get a bus from Puerto Natales.  Puerto Natales is a 3 hour bus ride from Punta Arenas or a 6 hour bus ride from El Calafate. You can fly to either from Santiago or Buenos Aires/Ushuaia respectively. You can also get there on a long bus ride from Ushuaia, although the ferry crossing on this route can make things a bit unpredictable.
Getting to Torres del Paine
Several buses leave Puerto Natales for Torres del Paine around 7.30am and 2.30am.
The journey takes about 2.5 hours.  The first stop in the park is the main entrance at Laguna Amarga where you will be marched off the bus to the park office.  Here you have to buy your park pass, fill in a brief questionnaire and watch a short video about the park.   The pass costs around US$40 for non-Chileans.
Do you have to register to enter the park?
The questionnaire asks you how many days you intend to stay in the park but  is for research purposes only. It is not some sort of registration system where you have to check in and out.  If you decide to stay longer or come away sooner there is nothing stopping you.  Likewise, no one is going to be looking for you if you stay longer so tell someone where you are going.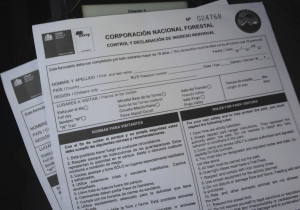 Where can you start the W Trek?
After getting the big bus to Torres del Paine, most people have three options:
i. Make Your Way to Hosteria Las Torres
You can walk from Laguna Amarga or take a mini bus which costs 2000 Chilean pesos each and takes about 20 minutes.
ii. The Catamaran to Paine Grande
Make your way to Paine Grande by getting on the big bus to Guarderia Pudeto.  This is where you can catch a catamaran (Hielos Patagonicos) across Lago Pehoe.  It takes an hour for the bus to get from Laguna Amarga to Guarderia Pudeto.
The catamarans generally leave Guarderia Pudeto twice a day, at 12pm and 6pm and co-ordinate with the big buses.   In summer (mid November to mid March) another ferry leaves at 9.30am, returning at 10am.  In winter (April to mid November) there is only one catamaran, leaving Guarderia Pudeto at 12pm and returning at 12.30pm.  The journey takes half an hour.
iii. Walk the Tail to Paine Grande
After dropping people off at Guarderia Pudeto, the big buses continue to CONAF's Administracion office at the top of Lago Toro where the "tail" forming the "Q" starts.  It takes another hour for the bus to get between Guarderia Pudeto and CONAF's administration office.
3. How to travel around the park within Torres del Paine
You can use the regular buses which go between Puerto Natales and Administracion to get from Administracion and Puedeto and Laguna Amarga.  You can either pay a few thousand pesos, or if you have a return ticket, just find a bus that runs with the company affiliated with your ticket, and show them the ticket.
In addition to the big buses which run twice a day through the park, mini buses ply the route between Las Torres and Laguna Amarga.  Some private vans make the trip to the CONAF Office and even up to near Hosteria Lago Grey.  Other than that,  transport is limited so you'll be relying on hitch hiking or negotiating something with a driver of one of the private vans, (we did this and saw lots of people doing the same without any problems).
We managed to negotiate a reasonable rate with a random mini bus driver who was driving day tripping tourists around, to drive us from Hosteria Lago Grey to Puerto Natales.  We just asked one of the bus drivers whether he knew anyone in the car park that could help us out and he hooked us up with the driver.  We paid US$17 each which was the same price that Hosteleria Grey had offered to arrange transport from their hotel to Administracion in time for the last public bus of the day.  We got to the car park at the south end of Lago Grey on a Saturday afternoon so maybe it was busier than usual.
---
Don't forget to also check out the following posts on the W Trek:
How to Get to Torres del Paine
Accommodation Options and Booking Refugios