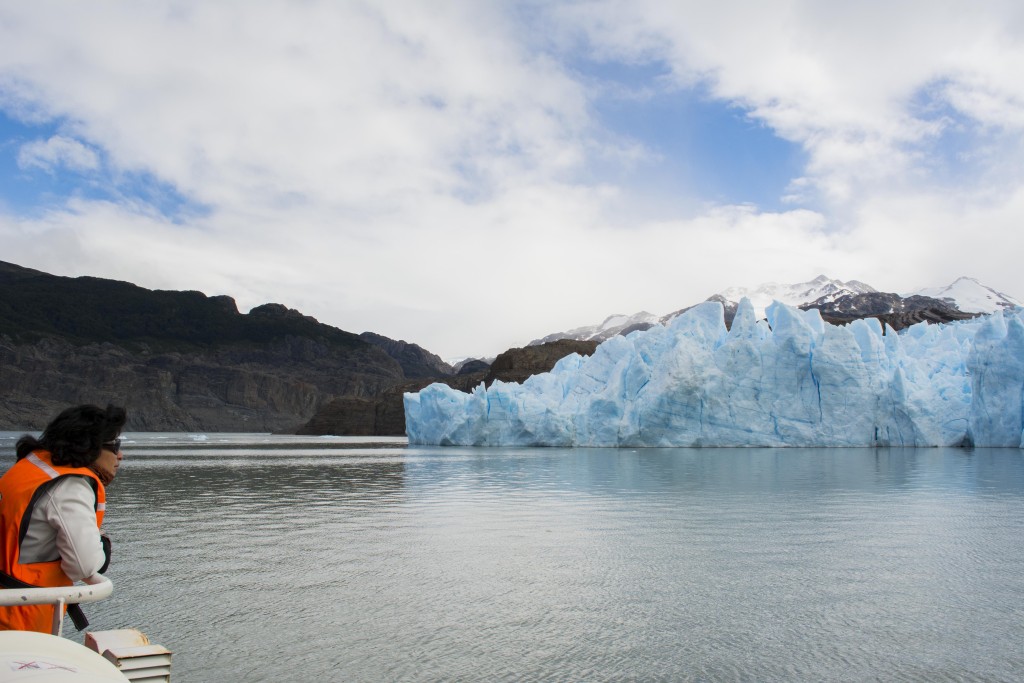 The Grey II is a tourist boat that leaves Hosteria Lago Grey and makes it way up Lago Grey to collect people near Refugio Grey.  The boat then makes it way up to Glacier Grey so that tourists can get a closer look at the glacier while drinking a pisco sour made with ice from the glacier.  It then returns to Hosteria Lago Grey.
The Grey II generally leaves Hosteria Lago Grey at 11am and arrives outside the Big Foot office near Refugio Grey at 1pm.  Tickets are expensive (around US$100 each) and have to be bought via an agent in Puerto Natales who will check whether the boat is running on the date you want.  Your agent can also check with the Hosteria that they are happy to arrange transport to the CONAF office where you can catch a bus to Puerto Natales. (We were given a quote of US$17 each).
Note that the Grey II boat can be cancelled at short notice and will not be confirmed until 11am on the day you want it to travel.  Make sure you ask your agent about getting your money back if the boat is cancelled.  It often collects tourists who are doing a morning's walk from Paine Grande to Refugio Grey or has tourists on the boat already from Hosteria Grey but can be cancelled if the weather is bad or if there are not enough bookings.
Is it worth it?
If you're not going to or haven't seen the Perito Merino glacier near El Chalten, then maybe consider a ticket.  It is expensive but is a nice way to end your trip and it means that you won't have to go back on yourself from Refugio Gray
Personally, I found it expensive for what it was and it wasn't worth the hassle.  We assumed that there would be lots of boats going tom Refugio Grey to the other side of the Lago Grey, with transportation on to Administracion readily available on the other side but this isn't the case.
It's annoying having to book the boat in advance, it was quite a hassle to arrange, it was stressful when we found out that the boat was not even confirmed until 2 hours before we were supposed to catch it, and it was a very expensive experience.  Glacier Grey is small and not half as spectacular as the Perito Moreno Glacier so if you are heading up to El Chalten save your money for then.
Other experiences on the W Trek
The hosterias can all arrange horse riding trips, as can Big Foot Patagonia, who can also organise ice hiking and kayaking trips around Glacier Grey.
---
Don't forget to also check out the following posts on the W Trek:
How to Get to Torres del Paine
Accommodation Options and Booking Refugios
(Visited 126 times, 1 visits today)