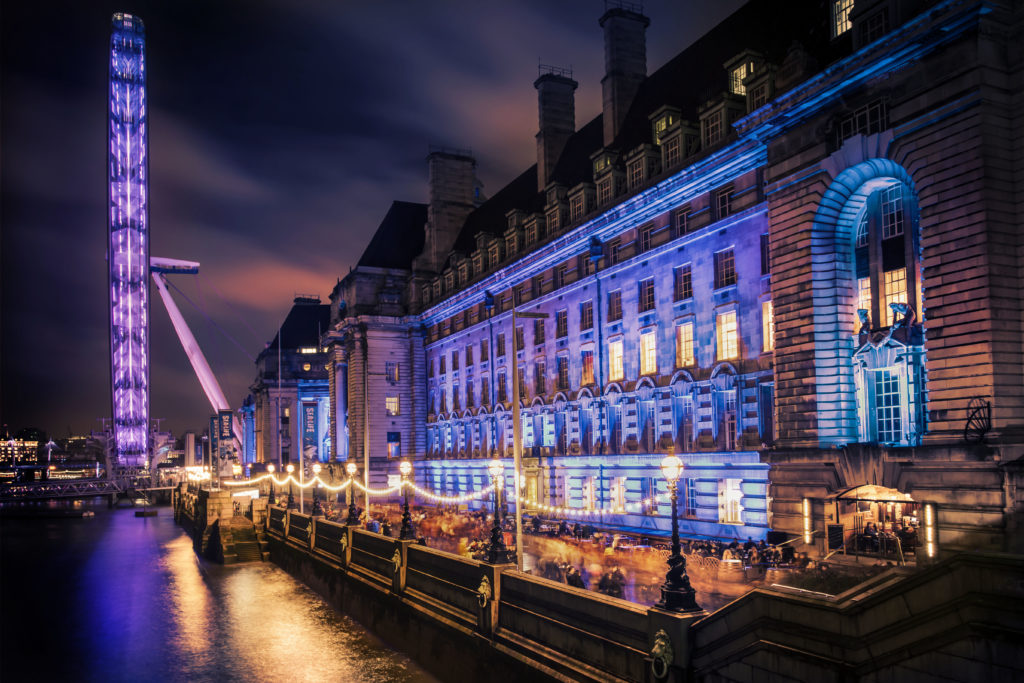 My life is slightly crazy at the moment, hence why I haven't written anything for a while.
I love living in London. It's a beautiful city with so many opportunities. It's easy to take it for granted. I'm lucky to live here.
Photography
This is a photo of the London Eye from Westminster Bridge. It was taken on Valentine's Day a year ago. We'd spent the afternoon on a Trey Ratcliff photo walk after a delicious spicy ramen from Ippudo. I've tried so many different ramen places in London but the spicy one from Ippudo is still my favourite, (although I know it's not the healthiest!).
It was an important day for me as I ended up as runner up in Trey's photo competition and won a load of stuff from Stuck in Customs which definitely helped me become a better photographer.
I was recently published in Spain's version of National Geographic Traveller magazine. I'm not sure how it happened but I was happy about it. It was a big achievement for me even if it was overshadowed by recent events.
I haven't edited or taken any photos for ages so it's been good to get back into editing today.
The last few months
I think I'm supposed to be taking it easy but relaxing isn't my forte! How do people relax? What does it mean? Maybe I do relax but don't know, or don't feel it? I've been watching Modern Family and In The Thick of It, mainly as light relief from the Brexit debacle and everything else I've got going on.
I hadn't been following the Brexit campaigns much. I only saw Remain campaigners in London and I couldn't understand why anyone would vote to leave the EU. I generally don't watch the news as I don't trust the media and find it depressing. (I prefer to read up on stuff that I'm interested in from sources of my choosing rather than being a passive consumer of main line "news".)
As a result, I was shocked when the result was announced. I turned BBC News on for the first time in years to see the Bank of England announcing emergency measures – WTF was going on! I was in shock while my friends were deeply upset.  They kept hoping that it was some sort of nightmare that they would wake up from. Believe me – I know that feeling well 🙂
I could go on about Brexit but I won't right now – I'm too angry and frustrated by it. Seriously, what were people thinking – politicians as well as the Leave voters!
Apart from getting annoyed about Brexit, I've been pretty busy – lots and lots of appointments. I'm hoping there'll be fewer of them in a week or so as I find some of the appointments really difficult.
I've been enjoying catching up with friends and family and socialising a bit too much over the last few weeks. I have a lot of people that I still want to catch up with.
I'm not getting enough sleep at the moment. I'm averaging 6-7 hours a night, when it really should be 8-9 with everything else I'm dealing with. I feel so much better when I get more than 8 hours sleep. I definitely need to fix that.
I enjoyed watching Wales play so well in the Euros. My brother in law managed to get tickets for almost all of the matches which was amazing. I wish I could have been there. I almost gave myself a heart attack watching it on TV.  I was disappointed that they didn't make it to the final but they did so well. Chris Coleman is a legend!
Right now I'm watching the Olympics – I find the athletes so inspiring, and it reminds me of how much I enjoyed the events in London a few years ago. I'm really proud of how well GB have done so far! It's pretty amazing for a small country.
Reading
I've been reading a lot recently. I've gone a bit crazy with buying books. If I see one I want now I just buy it. I've never done that before.
Most of the books I've read have been health related but other books that I've really enjoyed have been Sam Harris' Lying; Ryan Holiday's Ego is the Enemy and Trust Me I'm Lying; Ron Jonson's You've Been Publicly Shamed; Simon Sinek's Leaders Eat Last (one of the best books on leadership I've read); Anthony Bourdain's Kitchen Confidential; and Austin Kleon's Show Your Work. Michael Singer's An Untethered Soul also blew my mind a bit – I'd recommend it.
Concerts
We managed to see the Lumineers at Brixton which was cool. I was in a lot of pain but the security guy let me sit on a side ledge for most of it so it wasn't too bad. Brixton is one of my favourite venues and the atmosphere was great.
I made it to an amazing small Van Morrison gig at the fairly new Nells Jazz and Blues Bar near where we used to live. I've always wanted to see Van. We were lucky to get tickets. I was randomly listening to him one night months ago. Andrew happened to look for any concerts coming up and, coincidentally, tickets were going on sale that night. It was awesome!
We also caught Mumford and Sons and Alabama Shakes at British Summer Time in Hyde Park which was pretty spectacular. It was an emotional day for lots of reasons but I managed to enjoy it, especially when I finally got on to a fence in the centre and could see the stage properly 🙂
Health and Fitness
I've started running again which I love and have finally started recording my workouts on Strava.  (I've also been watching the Rocky films which helps 🙂 – I listen to a lot of the soundtrack when I'm running…).  I'm so fortunate that I live close to the park – mentally it's easier to go out, although I still have to force myself! I feel great afterwards.
I'm taking it super easy as I don't want to get injured and haven't been able to run for months.  My left ankle's playing up a bit, possibly because my trainers are so old.  I'm hoping to get my running gait analysed which I've never done before. I'll buy new trainers if I need them. I'm also using my exercise bike again and doing a kettle bell work out now and then.  I love being able to exercise and walk around without being in any pain. I don't think a day goes by when I'm not extremely grateful for that.
I've been experimenting with a few different fitness apps. I've historically used Nike+ but not many of my friends use it. I persevered with Runkeeper but had the same problem and I didn't find the interface very intuitive. I'll see how I go with Strava – I like how it can synch with my Fitbit and you can input workouts manually if you can't or forget to use the app.
I bought a Fitbit Charge HR a few weeks ago. (It's not the sexiest looking watch – I feel a bit like I'm on parole but it does the job). My heart rate was unusually high. It was sometimes over 120 when I was just sitting down, and would frequently jump to 160 if I got up, or took a walk. It seems to have calmed down in the last month or so. I'm now at an average of 63bpm which is a lot more normal! I love that I can monitor my heart rate myself and it's reasonably accurate against whatever they use in hospital.
I started losing a lot of weight a couple of months ago. Mainly from stress. It's funny, I've always been a bit overweight but it's never really bothered me. I've certainly never had to worry about being underweight before! I always thought it would be nice to have thin legs but actually I'd be quite happy to go back to what I weighed before!
My weight has since stabilised. I fast for a few days every couple of weeks but make sure that I eat a lot in between. It's pretty hard to put weight on when you're trying to eat healthily. I've been working with a nutritionist which has been useful. I feel like a bit of a weightlifter – eating all the time, but it seems to be working.
I've never spent so much money or time on health related activities in my life! That's a good thing. It's about time that I prioritised my health. I think most of us take our bodies for granted when it really is the most important thing to take care of.
I obtained a genetic report from 23andMe and used Promethease to generate a comprehensive report.  The results have  been fascinating, if a little scary. It would have been useful to have had it months ago. I'm glad I've got the results and would recommend the test for anyone interested. Although, unless you are trying to trace lost relatives, I would suggest maybe creating a fake profile and getting someone else to order the the kit for you. It's powerful information and after reading Future Crimes I'm  paranoid about the risk of data falling into the wrong hands.
I took a transcendental meditation course last weekend. I've meditated almost daily for a few years now but completely lost the habit over the last couple of months. I've had a lot of stress to deal with lately and found it difficult to focus on my breath without having my brain overrun with a myriad thoughts. I hoped that learning a new technique and having a teacher would help me get back into it and so far it has. It's expensive but it is a different technique to what I've learnt before and one that I'm finding easier to practice at the moment.
On the upside, I've managed to keep up my gratitude practice which has been invaluable in the last few weeks.
I've also been going to yoga again, and learning tai chi. For whatever reason, I thought that the tai chi classes would be full of old people but the vast majority are young. It's a pretty vigorous class and I always feel energised after doing it.
I've been spending half an hour in a sauna each week, too which I love. It's always one of the highlights of my week. I guess that's relaxing, and I feel super chilled afterwards.
I can't swim at the moment but I'm hoping that will change in the future. It will be good to get back into the pool again.
I've occasionally been going to an acupuncturist, and I've started seeing a therapist to deal with past trauma. I would never have done this before. Right now I want all the help I can get. So far I've found it useful to have someone else to talk to. I'm finding it really hard to trust health care professionals at the moment. I'm hoping that it will help with that too.
The great thing about all of these activities is that they're all local. That's one of the benefits of living in London and I like the sense of community that's given me.
I'm focusing so much on my health right now, although it does feel self indulgent, and it is costing a small fortune! I also find that I'm rushing around like a headless chicken at times, trying to fit everything in.  Doing too much and pushing myself has always been my downfall. I need to be carefu and chill out a bit.
Andrew hasn't taken any time off since last October either, which is not good. Andrew's been through a lot with all that's going on too. I'm so grateful to have his love and support through all this.  I have no idea how people deal with this alone. Hopefully we'll get to take a break together soon. A rest will do us both good.
I've got a lot going on right now but the good news is that I feel much better, healthier and fitter than I've done in a long time.
May it continue 🙂
(Visited 177 times, 1 visits today)