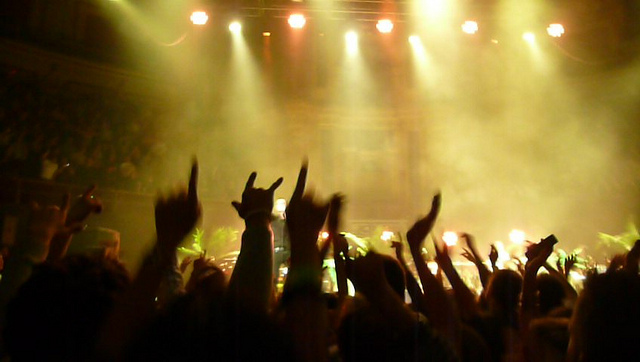 I'm lucky. Living in London is a brilliant place to see live music. I've been able to see most bands and musicians that I like because almost all of them perform in London at some point in time.
Beat The Touts is a useful website for news on up coming concerts and information on pre-sales.
It's still a struggle to buy tickets though!  Most concerts sell out in minutes. Getting tickets is a combination of luck and being on the ball – ready to search for tickets online the second they're released for sale! Andrew has a much higher success rate at getting tickets than I do. I have no idea why!
This year Andrew managed to get tickets for us to see the Lumineers at Brixton, Van Morrison in a small blues club in West Kensington, and Alabama Shakes and Mumford & Sons in Hyde Park.
Stadium Concerts
Some of these stadium shows can be fun, especially if they are pretty theatrical, (Muse, Bruce Sprinsteen, or U2 for instance). I'll go to a stadium show if it's someone I've always wanted to see and who rarely plays smaller shows, like Paul McCartney or Beyonce for example.
I also tend to make an exception for the Royal Albert Hall if I can get good seats, or the summer concerts at Hyde Park. Mainly because I can walk home and the park is wonderful if the weather is good.
Big name acts tend to only play concerts at the Olympic Park, Wembley, the O2, Royal Albert Hall, and occasionally Twickenham or the Emirates stadium.  Tickets can usually be brought from Ticketmaster or See Tickets.
I've found that tickets invariably sell out at lightening speed. They're sometimes released haphazardly, so it's worth checking periodically on the run up to an event even if it is sold out.
I used to go to a lot of stadium shows but got fed up of rubbish seats and bad sound quality.  Beware of the big venues. Tickets are expensive and acoustics can be terrible, (especially if you have seats set high up with the Gods), with little or no visual aids of the stage.    Getting to and from such events can also be a nightmare because of the crowds.
I (Andrew…) will rarely buy a ticket for a stadium show now.
Small-Medium Concert Venues
These are my favourite places to watch live music in London. The following venues are smaller and you can see great gigs for as little as £10 a ticket.  The venues don't have a bad seat in the house and the standing areas are usually raked so that you can get a good view of the stage.
Bush Hall, Shepherds Bush (approx 320)
The Garage, Highbury and Islington (approx 630)
Scala, Kings Cross (approx 1,100)
Shepherds Bush Empire (approx 2,000) (I prefer the first floor seats as the ground floor isn't really raked)
The Forum, Kentish Town (approx 2,300)
KoKo, Camden (approx 2,400)
Roundhouse, Chalk Farm (approximately 2,000 – 3,000 depending on the number of standing tickets)
Brixton Academy (approx 4,900)
Hammersmith Apollo (approx 5,000)
Summer Music Festivals
During the summer, London's parks host a number of music festivals.  The concerts are huge, sometimes have several stages with bands playing from 2-4pm.  Crowds get bigger every year but you can usually shuffle your way to the stage or at least one of the huge screens.  Sound varies depending on the weather. Here are some of the main ones:
British Summer Time (July)
Summer Series at Somerset House (July)
Wireless (July)
Lovebox (July)
Jazz and Blues Music
Tickets for the best Jazz and Blues musicians are hard to come by and expensive.  If you are lucky enough to get tickets, there is no better place for intimacy and atmosphere than Ronnie Scotts on Frith Street in Soho. Nell's Jazz and Blues Bar in West Ken also looks good.
Funk
I still haven't managed to have a bad night at Madame Jo Jo's on Brewer Street.
Classical Music
To be fair I've been to some fantastic rock concerts as well as classical ones at the Royal Albert Hall.  If you can get decently located seated tickets or don't mind standing in the rafters, this can be an amazing venue.
If you want to see any of the Proms events, this is where they will be. Tickets for the Proms do sell out fast too, so it's worth reading up on the events that you want to see and getting tickets as far as possible in advance.  For mere mortals, it's almost impossible to get Last Night of the Proms tickets in the RAH itself, in which case you can't beat the Proms in the Park event.  Take a big picnic, you're own wine and a few flags, and enjoy the atmosphere.
There are also events in Kenwood House in Hampstead in August.
(Visited 17 times, 1 visits today)