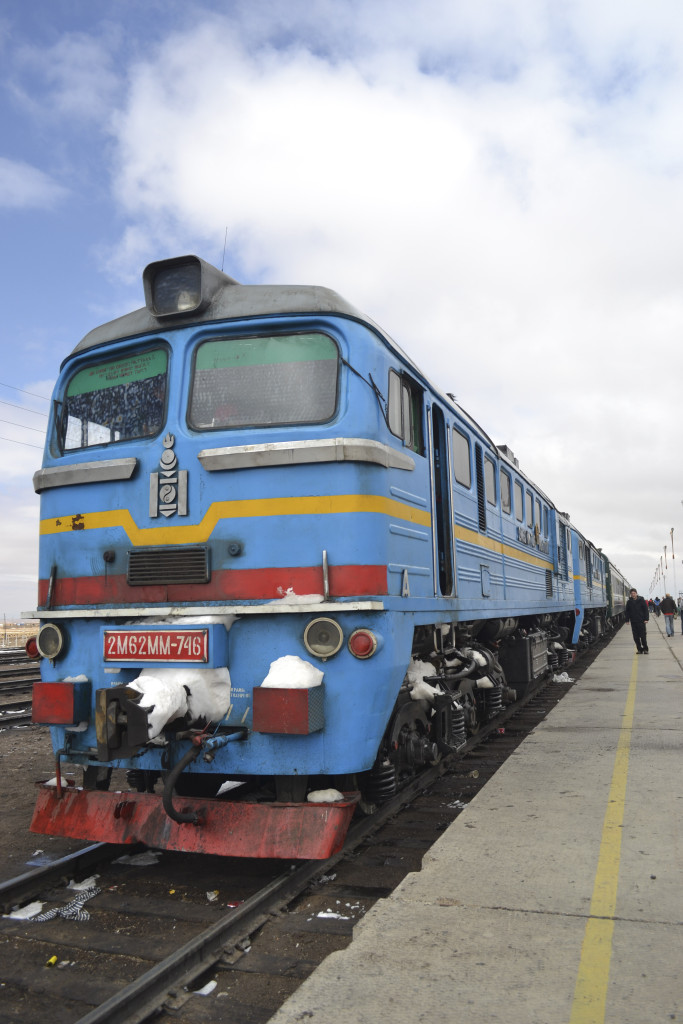 How Much Time Do You Need?
How much time can you take off? We could only take two and a half weeks, so spent three days each in St Petersburg, Irkutsk, Mongolia (not enough at all), and a couple of days in Beijing (could have spent longer).
Take more time if you have it. Consider stopping off at Yekaterinburg, Omsk, Suzdal, or Nizhny Novgorod too.
Return Flights
Most people travel overland one way and fly back another.  For the cheapest fares, book flights as far as possible in advance. If one way flights are insanely expensive (like London to St Petersburg), consider return flights which can be cheaper. For us, a return flight was a third of the price despite us only using the outward journey.
Visas
Factor in extra time and costs for your visas.
Our Russian, Chinese and Mongolian Visas cost around £200 each in total. As British and Australian nationals living in London, we managed to get our Chinese and Mongolian visas fairly easily ourselves. Allow around 10 days for each visa. It might take longer if you're relying on an agent or the postal service.
We used Real Russia to get our Russian visas.
Third, Second or First Class
First class cabins have two beds and sometimes a private bathroom and a shower (depending on the train).
Second class has four beds and two bathrooms, (or maybe one, if your provonistas decide to lock it and keep one bathroom for themselves), at each end of the cabin.
Third class is hard core – six beds in open compartments, with plenty of off duty soldiers smoking, eating sausage, drinking vodka and snoring. If you don't mind the lack of privacy, want a real mix of people, and don't mind sleeping in an environment filled with the smell of body odour, sausage and tobacco, then this is the place for you.
Since there were 3 of us travelling together, we hired a second class cabin for ourselves.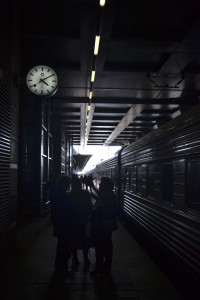 Buying Train Tickets
The amazing Man in Seat 61 was invaluable when it came to figuring out a route and getting information about timetables.
If you have no time constraints or are travelling in the winter, you might be able to get tickets by turning up at the station.  Since we were travelling at a potentially busy time and had limited time, we opted for booking our tickets in advance.
We used Real Russia to book our tickets which were expensive, but at least guaranteed that we would get the train we needed to get from Ulan Bator to catch our flight from Beijing, (there was only two trains a week).
Accommodation
We used Booking.com to book hotels in St Petersburg and Beijing.  We used TripAdvisor to find a hostel in Ulan Bator (the hotels were prohibitively expensive).
Tours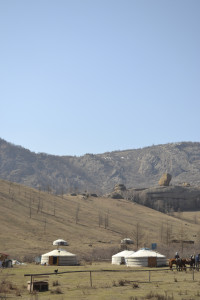 Real Russia organised a trip to Lake Baikal and a stay in Litsvayenka for us although this got cancelled due to the unseasonal snow.
Our guest house in Ulan Bator arranged a trip to Terelj and Hustai national parks where we stayed with local families in yurts, walked around and rode some not very well kept horses which none of us could control (the second time on the trip I almost died…).
In Beijing, we managed to contact and make plans with a guy we found on TripAdvisor who drove us to the Great Wall.
Eating Out
Given our sub-standard culinary experiences in Moscow a few years earlier, our expectations for the local cuisine were extremely low. Fortunately, following the recommendations in the Lonely Planet's Trans-Siberian Railway book we ate surprisingly well in all cities and didn't have a bad meal for the whole trip. (Tip – focus on the "Top Pick" restaurants. If you're worried, it pays to cross check reviews with TripAdvisor).
Eating and Drinking on the Train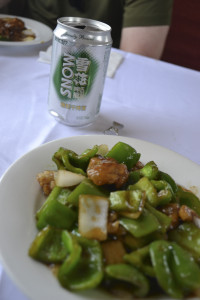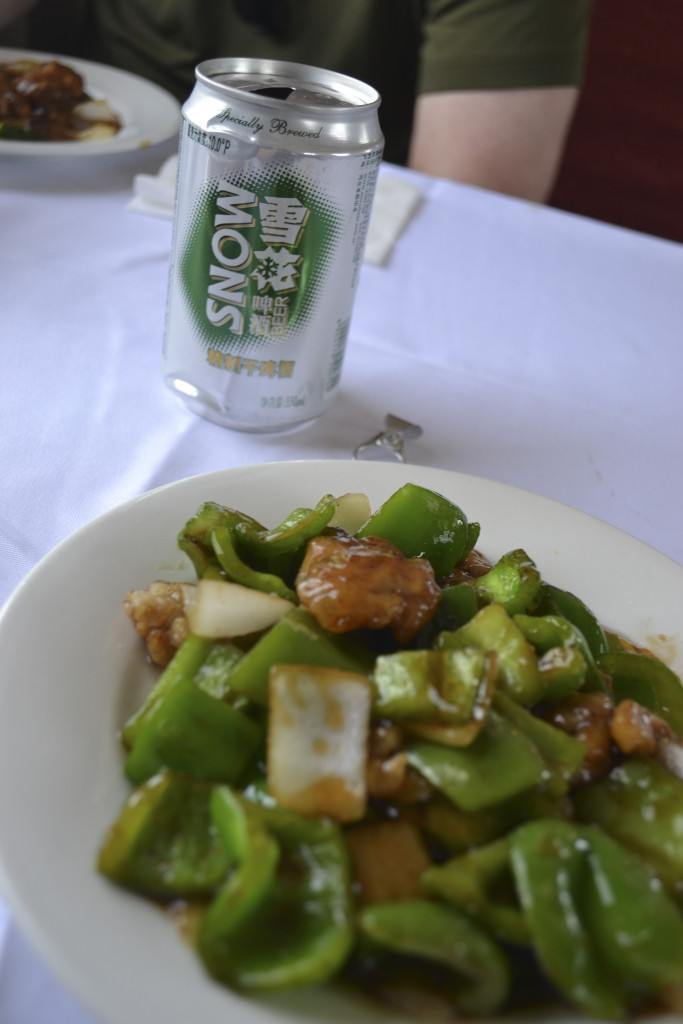 Each train has a restaurant carriage.
For some reason, the menus had no resemblance to what was actually on offer. Best to just ask and eat what you're given.
The food was surprisingly good in our experience. Omelettes and soup for breakfast on the Russian leg; steak and chips in Mongolia, and Chinese chicken and rice on the Chinese train.
In between trips to restaurant carriage, we brought a couple of mugs with us which we used to "cook" dried noodles using hot water from the provonistas.  We bought a bottle of soy sauce and some dried chilli to add some flavour – but it wasn't the most exciting of meals!
You can buy black tea from the provonistas.  Other drinks are available when the train stops at certain stations for a few minutes. Beer and vodka…..was also available.
Vodka…
We were warned about drinking vodka with the Russians. We were warned how impolite it was to refuse offers of hospitality.
We just weren't prepared for such a painful experience so early in our trip.
Beware. I almost died! Click here, to read what happened.
(Visited 38 times, 1 visits today)