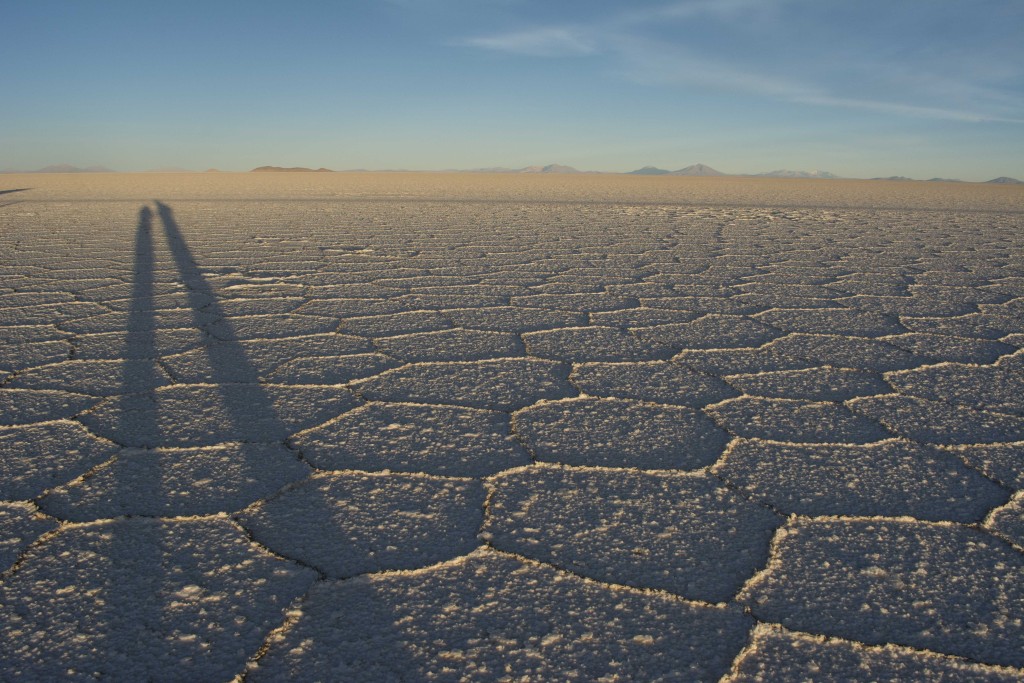 If you're in Bolivia or the far north of Argentina or Chile, you really can't miss visiting the Salt Flats.
Contrary to what I expected, it isn't just one big white area – expect emerald green lakes, volcanic landscapes, amazing rock formations, bubbling pools of sulphurous mud, and gorgeous pink flamingo specked lagoons – it is stunningly beautiful!
Visiting the area does not come without risks however.  It's a remote and inhospitable part of the world, where jeeps laden with gas tanks and heavy supplies race around cliff edges and along unpaved roads. Things may have improved but tragic accidents do occur and many tourists have lost their lives.
We met a few people who had scary experiences out on the Salt Flats.  It's definitely worth visiting this gorgeous place, but it pays to choose your operator and vehicle carefully.
If you have your own vehicle, it's theoretically possible to travel independently.  Think twice however.  The area is extremely remote with no decent medical assistance if anything goes wrong; roads are in poor condition; there is hardly any signage or cell phone reception; accommodation sells out; there are few places to buy supplies and the low temperatures and altitude can be a killer – literally.  Most people who have died in the Salt Flats over the last few years have been tourists who are unfamiliar with the roads and get easily lost. Just Google "tourists accidents salt flats died" for a few examples. It's frightening.
So, where do you start?
1. Figure Out Where to Start Your Tour
If you're planning on starting and returning to Uyuni, you should be able to take one route down to the Chilean border and a different route back. This usually takes three days.
Alternatively, you can start in Tupiza and make your way to Uyuni via the Salt Flats.
The countryside surrounding Tupiza is beautiful and I would recommend visiting.  It's Butch Cassidy and the Sundance Kid country so great for horse riding, as well as hiking.  It's also a good place from which to get a bus to Argentina or Potosi on your way to Sucre, Cochabamba or Santa Cruz.
It is possible to do a tour from Uyuni to Tupiza. However, not many tours go that way, so you may be waiting a while for travellers to join you, or you might have to pay a lot more than you would usually to make it happen.
It is also possible to negotiate a transfer from Uyuni to San Pedro de Atacama (and vice versa), however transfers can depend on other travelers going with with you and also the weather.  (We were hoping to cross from Salta to San Pedro de Atacama in late May but roads were closed indefinitely due to heavy snow.) Bolivian vehicles are not allowed to enter Chile so the tour operator will have to arrange for someone from Chile to meet you at the border and drive you to San Pedro. It is possible to arrange but you might have to wait until you arrive in Bolivia to make the arrangements.
2 . Insist on Getting a Good Vehicle
You're paying and enduring a lot to be in that part of the world and are unlikely to ever go back – don't waste that opportunity – make sure you get a decent vehicle. They do exist and a good vehicle will make the world of difference to your trip!
I had read this tip before I went, but failed to understand how crucial it is to your enjoyment. What was I thinking?!
We had a really old vehicle with no head rests, no seat belts, dirty windows which you could hardly open and were so old you couldn't really see through them despite trying to clean them.  There were no windows that could open at all in the back so whoever sat there couldn't take any photos at all.  On the upside it was so old that it couldn't go very fast so we felt quite safe!
In contrast, the other group who were travelling along side us, had a much better vehicle and were paying the same amount of money as us – they had a far superior experience as a result.
So, what do you need to look for in a Salt Flats tour vehicle, to avoid having the same uncomfortable experience as us:
i. Head Rests and Comfortable Seats
I would highly recommend, specifying that you want a newer vehicle with head rests. You spend pretty much all day in the car and it is tiring. You will want to be comfortable.   You get up very early and your body will no doubt be nodding off at some point of your trip – it's hard to relax or sleep with no head rests.
ii. Windows that can open for the people who sit right at the back
If you have more than two passengers, (which you will generally have unless you are taking a private two person tour), then windows in the very back seats are essential.  Most vehicles are seven seaters, so when you're in the back, it's hard to get in and out easily as you have to climb over the seat in front to get out through the door.  If you have no windows that open in the back, the only way whoever is in the back is going to be able to take photos, is by asking for the car to stop, open the doors, get whoever is sitting in front of you to step out, and then climb out over the seats.  That's time consuming, inconvenient, freezing cold, and will probably not happen as your driver will get annoyed with you wanting to take photos so often….avoid this by having windows in the back.
iii. Windows that can open fully
Our windows could only wind down a few inches as they were so old!  The other car had electric windows – a huge plus given that we wanted to constantly open and close them to take photos.
There is so much good scenery down there – if you don't have windows you can roll all the way down (make sure you test them out in advance!), you will be asking the driver to stop every 5 minutes which of course you won't be able to do, so will miss out on lots of photos.
iv. Seat Belts
Crashes are common in this remote area of Bolivia. There are plenty of steep winding roads and cliff sides.  Cars do and have gone off the side of cliffs and crashed into other vehicles – increase your chances of surviving by having a seat belt in your vehicle.
 3. Choose a Route?
There are several routes that you can take.  Discuss the options with your tour operator and see what they recommend.
Some people pop in for a day trip from Uyuni others hang out for a week.
We did a 5 day tour from Tupiza to Uyuni with La Torre Tours which included a day trekking volcano Tunupa.
Our group chose the "alternative route" that went from Tupiza past these amazing rock formations on day one (rather than visiting villages). I don't think we saw any other vehicles at all on the road from Tupiza to our first night's accommodation which was cool.
After that, we took the road via Villa Mar, Villa Rocas and the Black Lake which was beautiful – definitely worth seeing.
4. Decide Whether You Want to Walk Up Any Volcanoes 
There are a few mountains/volcanoes you can hike up in the Salt Flats.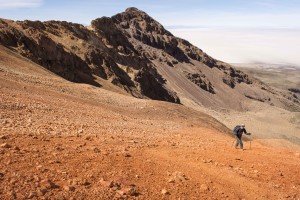 On the fourth day of our trip, we walked up Volcano Tunupa (above).  Our group had to pay a mandatory $60 fee for a guide, (an old man who walked fast ahead of everyone else).
We started walking from around 4,200m to 5,100m. We were not that fit at the time but moved slowly and finally made it to the top after a few hours.  It was extremely steep at the top – on my return I was sliding all over the place.
We'd had a few days in the Salt Flats region to acclimatise by then so no one got altitude sickness.  If you are starting from Uyuni, you might struggle. The view from the top was beautiful and the colours of the volcano were gorgeous. I'd definitely recommend it.
Near the start of our walk there was also a cave with some mummies/ skeletons of people who had died there.  Well preserved mummies are common in South America, (check out the ones in the museum in Salta).  These are not wrapped up in bandages like the Egyptian ones, these are dead people, hundreds of years old, which have somehow been preserved.  That always blew my mind – that I was standing next to someone who lived and died hundreds of years ago!  The ones on Volcano Tunupa were different.  They were not as well preserved but were kept in the same position and place where they died – not something you see every day!
5. Do you have to book a tour in advance? 
Not really.  I tried but couldn't be sure when we would be arriving in Tupiza so it was difficult to arrange. None of the agencies cared, they all suggested that we could turn up and should be able to get something.
Most people turn up and arrange a tour for the next day.  This is a lot easier than booking anything in advance and will allow you to discuss different routes and the type of vehicle you are going to insist on having!
Most tours need a minimum of four people for them to run.  However, there were a lot of people leaving each day when we were in Tupiza in May, so you shouldn't have any trouble finding other people to join you. Uyuni should be even busier.
6. What is travelling through the Salt Flats like? 
The scenery is stunning.
The days are long, and most of it is spent in the car.
During the day, it tends to be fairly hot and sunny – don't forget to wear sun screen as you burn so easily at altitude. It can also be windy which makes it very cold.
During the night it is freezing! Take lots of warm clothes!
Accommodation was better than I expected.  We had proper beds with comfortable mattresses and pillows.  We hired excellent down sleeping bags from La Torre Tours which we needed.  A sleeping bag liner is useful in case your tour operator doesn't wash their sleeping bags too often.
Bedding or at least a blanket was provided in most of the places we stayed, but I don't think it would have been enough to keep you warm, so take a sleeping bag, and a liner, (I'm not sure how often the sleeping bags or bedding got washed!).
One hot shower was available for a small fee in the Salt Hotel that we stayed at in the salt flats – we hadn't washed for a few days by then so it was definitely worth it!
Food was generally good, although started deteriorating as supplies ran out.  Snacks were also provided, and we had wine on our last night.
7. Should you hire an English or Spanish Speaking Guide
You can usually get an English speaking guide if you pay a bit more.
Some say that drivers who speak English are the younger ones who tend to be the ones who drink and drive or drive recklessly…  The roads are bad and there are quite a few cliff edges where cars have gone off the road so I wouldn't want to be with one of those.
On the other hand, we missed out on a lot because we didn't really understand our guide, which was a shame.  If you know a bit of Spanish or are with someone who is happy to translate all the time,  then you should be okay.  We weren't so missed out on a lot.
If you want an English guide, try to hire a mature one with a good reputation.  Some agencies also employ separate guides and drivers so do that if it's an option.
8. How to Take Crazy Iconic Salt Flat Photos
Start collecting any gadgets/wine bottles/crazy photo ideas on the run up to your trip.  Search Google Images for inspiration and make a note of your ideas.
Taking those crazy perspective shots on the Salt Flats is not as easy as it looks especially with a DSLR which tends to focus on whatever is in the foreground and blur the background.  Taking photos in manual or aperture priority mode and using a small aperture like f22 will help.
9. How to Get from Uyuni to La Paz or from La Paz to Uyuni
Todo Tourismo is the best bus company that does this journey.  They are heated, the buses are in good shape,  they give you blankets, and have a toilet on the bus.
Bear in mind that seats on Todo Tourismo buses sell out, so book your seats a few days in advance.
We met a few people who had experienced nightmare bus journeys along this route so be careful – travel with a good bus company.
We couldn't get seats on Todo Tourismo, so we went with another random company which had an office near the bus station in Uyuni.  The same dude who sold us the ticket also drove the bus… We were given a blanket, which was more than most of the other companies would offer, and the windows were not cracked like on some of the buses we saw.  The bus was FREEZING, extremely old, (the oldest I think I've ever seen), and there was no toilet on board! It was not the most comfortable 12 hour journey, but it got us there in one piece!
(Visited 174 times, 1 visits today)