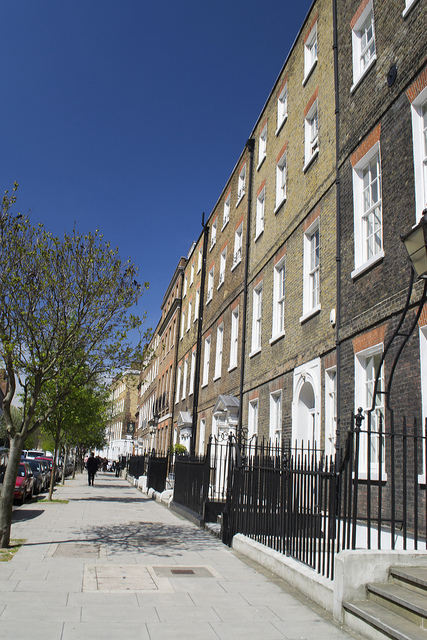 I don't know why people hate estate agents so much.  I asked one of them. He didn't know.
Reflecting on my experiences with estate agents over the years, I can't say I've had many bad ones. All the agents I came across this time were wonderful. It was a pleasure interacting with them!
I have a love-hate relationship with looking for a place to rent.
Oddly, this time, part of me looked forward to spending hours on Zoopla.  I fantasized about the bright, spacious, south west corner facing penthouse apartment, with private roof terrace and swimming pool, overlooking Primrose Hill that I'd be moving into.
Another part of my soul dreaded the endless hours that Right Move and Prime Location would suck out of my life.
Here's what I learnt about London's rental property market this time round:
1. The rental market is completely random
As usual, there didn't seem to be any rational rhyme or reason to how properties were priced.
I saw hovels priced as high as luxurious places, and vice versa, in the same area. It didn't make any sense.
Property prices dropped 20% from week to week depending on the landlord's willingness to risk having the property lie empty. I can understand mis-pricing a property by £10-30 a week, but £50-150 per week….?
A friend of mine recently moved back to Australia and got her apartment valued by an estate agent for renting out while she was gone.  One agent valued it at £375 a week, another at £650…! That's almost a 100% difference – what's going on!
Bizarrely, there didn't seem much difference between rental prices in central London, versus properties in zones 2 and 3.  I'm guessing that this is because there are so many great areas to live in London, and people's workplaces are spread all over the place? Or, maybe all valuations are random?
Sure, you might get a little more for your money on the outskirts of London, but prices were surprisingly, not much cheaper. After factoring in two overland travel passes, the cost would often be almost the same, if not more, than what you would be paying to live in central London.
Essentially, if we wanted a half decent place, it would cost us, regardless of where it was.
2. The rental market is slow right now
The market was weird.  There were a lot of empty properties.
Last time we were looking for a rental property (September 2014), to encourage competition and high offers, we were shown around properties at the same time as other prospective tenants.
Agents would encourage us to fake disinterest for fear of triggering other viewers into putting down an offer before we did. There'd be a race back to the estate agent's office to pay a holding deposit before anyone else. Agents would then play the viewers against each other, trying to elicit competing offers to get the landlord a higher price.  It was a dog eat dog world!
It was an uncomfortable and stressful experience, especially since properties at the time were only on the market for a few hours before being snapped up.
This time round, properties hung on the market for weeks, months. While I was monitoring property alerts, I saw batches of properties drop in price, and lots sit empty.
Maybe because the properties were priced so high to begin with, maybe because of the time of year (February/March), or maybe because of the economy – who knows?
3. Is the rental market changing?
Prospects for anyone without a large inheritance buying in London are still abysmal. But the government have introduced a few schemes to help first time buyers.  Could this be why there seemed a shortage of potential tenants? Or is it connected to a shaky economy or fear of a Brexit?
Some estate agents told me how recent developments in the Chinese stock exchange may mean that many investors connected with the Chinese economy may not be able to complete on properties bought off plan with only a deposit.  It will be interesting to see if this is the case, and if it is, who steps in to buy the properties instead.
I saw several of these brand new apartments on the market.  They were pretty nice!  Often the same price as older properties but far better designed, full of brand new appliances, with security guards, concierge service, swimming pool, gym, communal gardens, and high quality furniture if you wanted it too.
I wonder whether the increase in new residential developments will eventually force landlords of older properties to take better care of their properties, to keep them updated and in good shape?
The scarce availability of rental property in London has traditionally meant that landlords have been able to avoid much re-decoration or updating. It's usually been easy to rent properties out straight away, never mind how old the place was, as there was little competition and high demand.  That might be changing.
4. Why are some new developments so expensive?
The only downside with these new developments is the price at which some of them are initially marketed.
Some were reasonable, others, (like the development on the Shepherds Bush roundabout – marketed as "Notting Hill"), seemed completely overpriced (at £800-1000 per week…).
One agent told me that many of these developments were highly priced because the investors had been guaranteed a certain level of income as part of the off-plan purchase.  As a result, the developers were desperate to get a certain price for the property based on old rental market projections.
Also, many of these investors have invested a huge amount, usually at least £600,000 – £1m+ into relatively small apartments, and are responsible for hefty annual service charges.  Some of these investors are going to need a certain level of income to cover their investments.
5. Rise of the corporate landlord
The forthcoming change in stamp duty tax will make it more expensive for buy-to-let landlords, (or anyone for that matter), to buy another property. As several estate agents pointed out however, all the landlords will do, is set up a limited company to own the property on their behalf and shield against the increase in stamp duty.  Doing so might have other tax advantages too.
I saw a few properties owned by corporate landlords, most backed by an investment fund.  It was interesting to see how aggressively these properties were marketed.
The prices were high – a lot more than what I thought was reasonable given the size and location of these places.  They were advertised as having 1-2 months rent free, which sounds like a good deal. But, if you're planning on staying anywhere for a number of years, your rent increases are almost always based on the current rent you are paying.
At the moment, many corporate landlords are backed by a fund of investors. Consequently, the risk is spread and they can afford to have the property lie empty for longer than an individual might want. They can afford to hold out for higher rents, and may be more inclined to serve notice on a tenant who can't pay an increased amount of rent too.
In the past we've been lucky.  We've always had good landlords, and got to know the people who look after them.  With corporate landlords however, the emphasis was on the level of rent, as opposed to the quality of tenants, or any personal connection.
6. The beginning of the end of the rental market's housing crisis? 
I wonder whether the increasing number of property developments will make a difference to the housing crisis, or whether the new property developments will lead to lower rents? I hope so.  Looking for a property this time round felt like an improvement on the last for whatever reason.
Most of the new residential developments being built are marketed as "luxury" developments. However, from the discussions I've had with agents over the last few months, I wonder how many people in London are willing, or capable of paying such high levels of rent. I'm not sure if such high levels of rent is sustainable in the long run.
Most people who are willing to spend that much on rent after tax, usually have someone else paying, such as wealthy parents or their employer.  There are only so many people in that position in London.  The rest who can afford it, generally tend to buy.
I also question the marketing of some of these properties. I saw several properties labelled "luxurious", but decorated with the same fixtures and fittings as apartments that were decorated in the early 90s. It was bizarre. They were two years old and already looked dated.
There were also several new developments in questionable locations. Some were beautifully designed and brand new, but in the middle of nowhere, and certainly not worth the same as developments in better locations with better transport connections.
I wonder whether this will mean that rental prices will slowly make their way down? Or whether less properties will be built in the future because the expected rental income may not be as high?  Hopefully the projected increase in asset value will continue to make London property a decent investment opportunity.
I'm also convinced that with more and more people working from home. Over the coming years, the required office space of most companies will reduce.  Hopefully, the surplus will be sold off as residential developments. London doesn't need more office space right now, it does need homes.
7. When should you start looking for a rental property?

On the advice of several estate agents, we dutifully started looking two months before we were due to move out.  It was way too early! Everywhere we liked was empty or needed someone to move into within a couple of weeks.
If you're looking for a property to rent in London, I'd recommend waiting until about 4 weeks before you need to find somewhere. You'll be in a decent negotiating position for anywhere that needs tenants straight away, and if your dream place isn't available until later, you can always find temporary accommodation in the meantime.
If you don't mind spending most of your time looking for a property, start looking 2 months or so before you want to move. The standard notice period in London tenancy agreements tends to be 2 months, so a few will be on the market then.
It also helps to have a narrow idea of the area within which you are looking to rent. We didn't make things easy on ourselves. We were looking at a big prospective area.  (Basically anywhere pretty central – we were reluctant to veer too far east/west/north for fear of having to work on the opposite side of the city. Contracting means you can never be sure where you'll be working next and both of us hate commuting and the colossal waste of time it involves.)
The mistake I made was to somehow send a request to every estate agent in central London with my rental property requirements. My phone literally didn't stop ringing for days! I had to stop answering it as I wasn't getting any work done.  One day I had over 30 voicemail messages…
The whole process is time consuming. I have no tips other than to be ruthlessly clear on what you want or don't want. It makes deciding which properties to view a lot easier. You only have so much time to view properties, especially if you have a job or any other form of life!
I'm no expert.
I'm just hoping that we've now found somewhere and that we won't have to look for a new place again soon!
(Visited 20 times, 1 visits today)