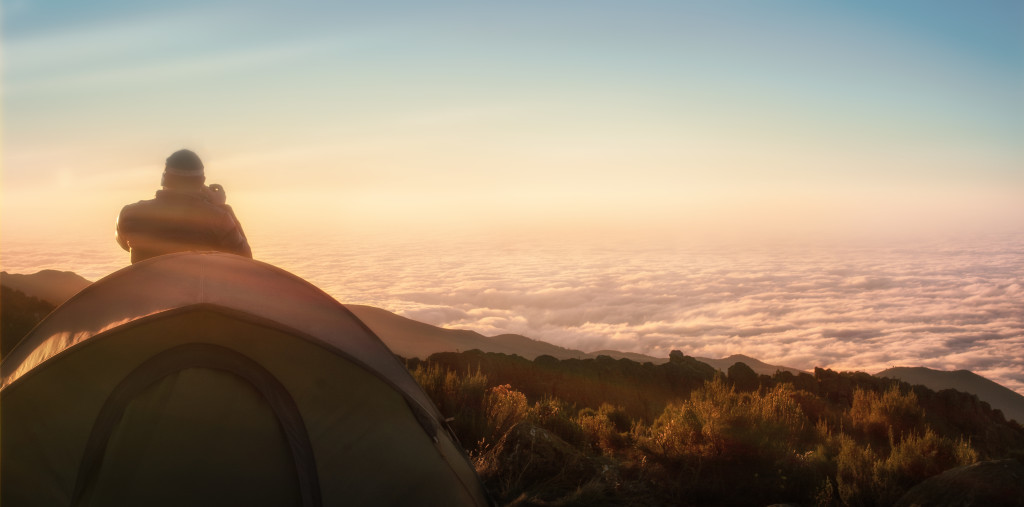 I'm often asked for recommendations on what to pack for extended trips.  So, here they are.
I know….if you're saving for travel, the last thing you want to hear is that you need to buy more! But trust me, my advice will enhance your travelling experience 🙂
But first of all:
Packing
Pack as little as possible.  Seriously! A heavy load will weigh you down and you will dread moving from one place to the next!
Resist the temptation to take things you think you "might" need. Be ruthless!
You can always buy what you really need.  Believe me, the supermarkets in Rwanda, and Indonesia are just as good as the ones in the US.
And you honestly don't need much. Especially if you're spending most of your time in a warm country.  Keep it light and you'll be floating from one place to the next like a canary.
On my first longish backpacking trip, I lugged 20kgs around South East Asia. What was I thinking! It took hours to pack and unpack. I didn't use or need half of what I had packed. It was painful and I hated it!
Try to keep the weight of your back as far under 10kgs as possible – it's easier than it looks.
If your plan is to work or stay put in one place for a few months, wait until you're there to buy things like work clothes etc.
What to look for in a backpack?
You can make do with whatever you have, but a good backpack with proper back support is useful.  Good back support means that your bag will feel lighter, and will sit on your back a lot more comfortably.  If you are backpacking properly, you'll be really grateful for a padded pack that fits you properly.
I used the Berghaus Jalan 55 travel bag.  It was useful being able to open the rucksack like a suitcase, but it lacked a decent back support and became painful when I carried it over long distances.
Having said that, for most people with a bit of cash, or who are travelling in a group, you might be able to afford taxis to most places, and won't need to drag your rucksack around too much on your back. Still, the lighter and the easier your bag is to carry, the happier you will be.
I'm a big fan of rucksacks that open up like the Jalan as they are easier to pack. Having said that, most traditional rucksacks have better back systems, and if you pack wisely it won't really matter.
Being able to cover and zip up the straps at the back will help keep the straps clean and avoid getting them stuck in conveyor belts, and other bags.
I also have a ridiculous and irrational fear of drugs being planted in my rucksack, so having no external pockets or only ones that could be locked was important to me.
Buy a smaller rucksack (55 litres is a good size for example), and you'll be more likely to take less with you.
Try to not stuff your rucksack to the brim.  Overpacked bags are more likely to break, and it's far easier to pack when you have spare room.  You'll also need space for souvenirs and extras that you'll buy on the way.
If I was going again I'd invest in a good Osprey backpack. They are expensive but light with strong back support.
So here it is:
OTHER STUFF YOU NEED TO THINK ABOUT
Your itinerary, where you want to go, what experiences you want to have, and what you want to do, goes without saying.
Once you've decided on that don't forget to check out the following:
Vaccinations
Don't forget this one. Some countries won't even let you in without a yellow fever injection.
Check with your local travel nurse or doctor and get their advice.
There is sometimes a shortage of some vaccinations (like typhoid in the UK), so you might have to wait for them to come into stock.
Some vaccinations require a course of multiple shots with weeks in between, so if you can, start planning at least three months before you leave, if not longer.
A lot of injections are expensive.  Don't forget to budget a few hundred dollars/pounds/euros, and shop around.
Visas
Check out the visa situation as soon as possible, and definitely before you finalise your itinerary.
I spent months planning a trip that transpired to be impossible.  I ascertained that visas for one country I wanted to visit half way through my round the world trip, had to be obtained in my home country, and was only valid for a short period. Back to the drawing board…!
Some visas take a while to obtain. This can be tricky if you're applying for multiple visas so you need to be organised.
Some visas can be expensive. If you are visiting any countries with expensive visas such as Russia, India, China, budget a few hundred for these.  Requirements and prices vary based on your nationality and where you live.  Make sure you check the most up to date rules with your local embassy and rules can change at short notice.
Reserve Wish List Items
Look up whether you have to book any expeditions or trips that you have your heart set on.
An Inca Trail trek, for example, must usually be booked several months in advance, sometimes even 6 months in advance for specific dates. The Inca Trail is also closed for one month a year.
Decent accommodation for festivals usually sells out, so book in advance.
Not all business, especially many of the local ones, accept credit cards to pay for tours.  In most of these cases they will need a deposit or sometimes the whole amount transferred to their bank account in advance.  You obviously have to be cautious doing this.  Do your research and seek out any bad press.
I have transferred money using good old Western Union, but only when I had an invoice and was confident that I was dealing with a legitimate business with an array of genuine looking good reviews online, (watch out for scammers).
If you think you might have to transfer money to pay for safaris/treks/trips to the Galapagos, then set up an account with MoneyCorp or Western Union before you leave.  You can do it on the go but it can be a headache and can take a while to set up.
Some companies will require various checks on you to be taken out which might involve having something sent to your registered physical address at home.  Different money transfer companies have different charges and commissions depending on the country that you are transferring money to, so shop around.
Some companies like MoneyCorp require you to show an invoice and explain what the money is for, before they will accept transfers to certain territories.
(Visited 33 times, 1 visits today)