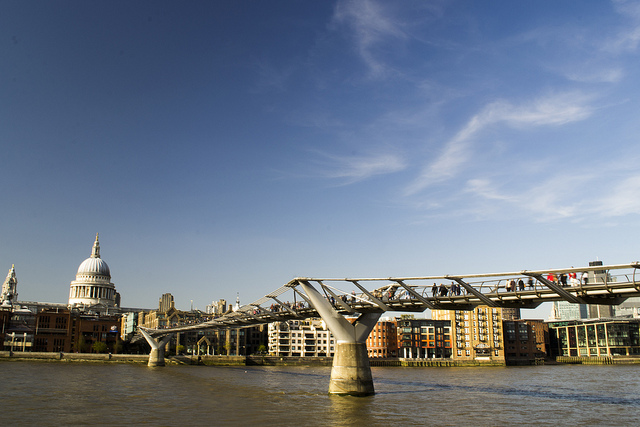 Where to stay and when to go in London will depend on what you want to do.
When you're planning your visit, think about what you want to do and see – in advance if possible, and figure out where you'll be arriving from.
What to Think About
Tickets for any events
The best tickets for plays and concerts will usually need to be booked up a few months before you arrive.  You can also skip queues and save time by buying tickets in advance for any exhibitions.
If you're planning on going to any concerts or events (like the cricket, football, Royal Ascot, Wimbledon) check out where these might be.  You might want to stay near the venues, or at least not on the opposite side of London.
Sight opening hours
Most sights (apart from a few Churches/Cathedrals) are open 7 days a week.  Some restaurants are closed on Sundays or Mondays so check in advance if you want to eat somewhere in particular.
Weather
I'm an optimist, but in all honesty, the weather in London is not usually that great.
London is beautiful in the sun.  If the sun shines while you are here, you are lucky.  People are happy, pubs spill out on to the street, you can smell barbecues in the air, and people get half naked and burn to a crisp wherever there is a patch of grass.
If the weather isn't great you are still lucky.  The lack of warm weather means not having to stay in hot places with no air conditioning.  You'll also avoid horrendous public transport experiences with people fainting, getting upset, and stinky.  It is not a pleasant experience.
Statistically it is dryer in the winter than the summer, but winter can be cold, dark and miserable (excluding Christmas). In autumn, the changing autumn leaves means that the parks are a joy to walk through.  In spring, it's not Kyoto but blossoming trees can be pretty.
Day Light
The biggest draw back in winter is the lack of day light.  In mid-winter, the sun comes up around 8am and sets at 3.30pm.  Perfect if you want to enjoy a log fire in a cozy pub or cottage, or you want to enjoy the Christmas lights.
In high summer, the sun rises around 4.30am and goes down around 9.30-10pm giving you long summer evenings but meaning that you'll wake up really early if your place doesn't have black out blinds.
Temperature
Temperatures in London are usually all over the place. It can be cold in the middle of summer and fairly warm in winter too.  Bring layers and you'll be fine.
Where to Stay
Accommodation in London is extortionate.  Check out reviews on TripAdvisor or Booking.com.
Use TFL's Journey Planner to figure out how long you can expect it to walk from your accommodation to central London, or the main sights you want to see.
For me, the best places are close (about a 5 minute walk – check Google maps) to a tube station. Tube stations which serve multiple lines can be useful in case one line goes down or has any problems.
Anywhere within zone 1 in Central London is great for tourists.  Outside that, Hammersmith, Shepherds Bush and Finsbury Park, all have at least two tube lines, lots of buses and useful airport connections.
Naturally, the closer to the centre of London that you stay, the less time you are going to spend travelling around.
I've lived in a lot of places in London and living towards the end of a tube line (zone 4) did my head in, as it took ages to get in and out of town, and hours on the night bus home.  If you can get into the centre of town (door to door) in around half an hour you'll be fine.
Double check the address of anywhere you are planning on booking.  I sadly got stopped by a tourist last year during a tube strike.  He had just paid for cab for  himself and his family from Heathrow to Bond Street in central London.  This must have cost him at least £100+.  We helped him locate his hotel on our iphones, only to find out that his hotel was actually based in Bond Street, Ealing far away in West London, and another expensive taxi ride away.
Areas to Avoid
London is generally safe but even friends of mine who have lived here for years do get mugged. Stay aware and minimise any walks from public transport to wherever you're staying at night.  Use common sense, always keen an eye on your belongings, and avoid parks and dark alleyways at night.
West and North London tends to feel a bit more affluent than Eastern and Southern parts.
In the city, most pubs and restaurants are closed on Saturday and Sunday, so you might want to stay somewhere else on those days. Those areas feel a bit dead on the weekends but you're usually only a stop or two away from more action on the tube.
Arriving by Air
It's worth considering where you will be coming from.   You might not want to stay on the opposite side of town as it might take you a while to get there from the airport.  If you're flying into Heathrow for example, you might not want to be staying in East London.
Cabs from the airports into central London are expensive – around £100+.
If you're getting a train from the airport to central London late at night, bear in mind that the tubes may not be running when you get to central London so you might have to get a bus or a cab on to your hotel.
Consider buying airport rail tickets in advance if you can get a discount or look out for 4 for 2 deals.
There are several buses that will take you into central London from the airports.  These are usually cheaper but you risk getting struck in traffic.
Generally, there are good transport connections between the airports and central London as follows:
Restaurants
Use Tripadvisor and TimeOut London to look up reviews and to see whether there are good restaurants around wherever you choose to stay.
If you can, avoid chain restaurants, pubs that have plastic looking menus, and do not under any circumstances walk into a Garfunkels.

If you want to dine in a particular restaurant at a particular time, it pays to book, weeks if not a month or two in advance, (longer for Michelin star establishments).  More and more restaurants don't take bookings, which can be frustrating but means that you can probably get a table if you are prepared to wait a while or dine early.
Drinking
Some bars like Vertigo 42 require bookings.  Otherwise, you should be able to walk into most pubs and bars.
Pubs generally close at 11pm, sometimes 12pm with last orders usually around 20 minutes beforehand.  There's rarely any dress code.
Most bars/clubs have some sort of a dress code and are are free to get in before a certain time.
(Visited 77 times, 1 visits today)