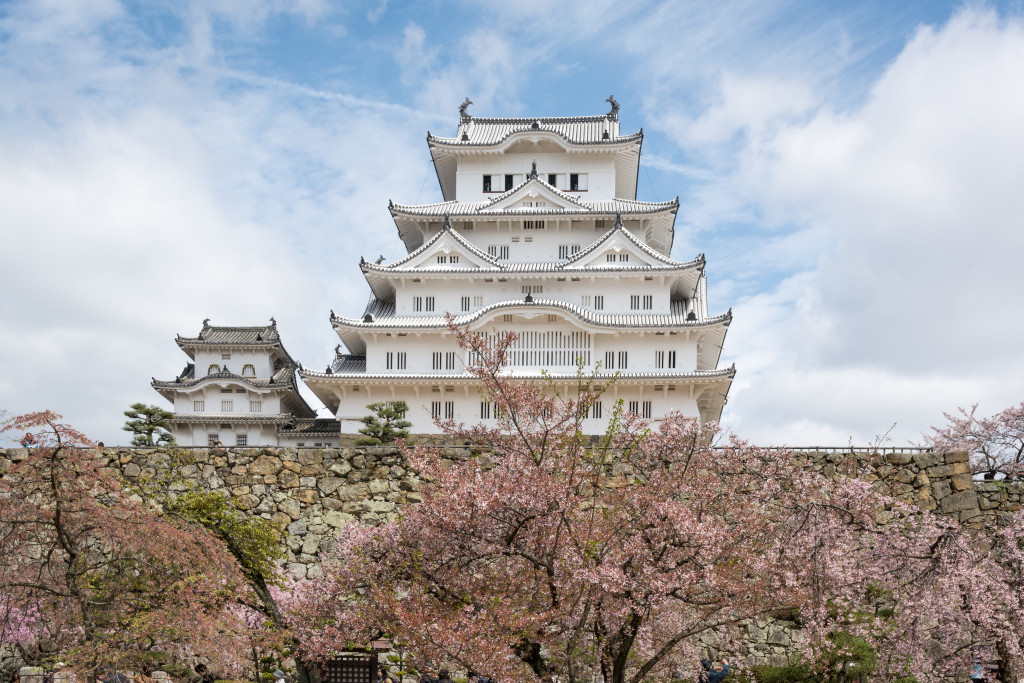 If you want to see one of the best traditional Japanese castles in Japan, Himeji Castle is definitely worth visiting.
Why?
Himeji is a UNESCO heritage site and the oldest preserved castle in Japan. It's been beautifully restored. The adjoining garden is also very pretty.
How do you get there?
Trains that travel between Hiroshima/Okayama and Osaka/Kyoto often stop at Himeji. If you have a JR pass, you can easily hop off for a few hours/overnight.
The station is a 15-20 minutes leisurely walk from the castle. The castle opens at 9am and gets busy very quickly.
The building's been under scaffolding for the last few years which means the castle is packed with plenty of Japanese, as well as foreign tour groups.
Is there a place to store your luggage?
There are lots of small lockers in Himeji train station and a few big ones, (but not many). We were lucky – there was one big locker for a large bag/suitcase free when we arrived at 8.50am in the morning. We managed to squeeze our two large rucksacks plus a day bag in there. It cost 700 yen for a day. Smaller lockers are slightly cheaper. If you need a large locker, get to the station as early as possible or stay the night in Himeji.
Cost?
Tickets to the castle cost 1000 yen each plus 80 yen for a ticket to see the garden. The garden is worth the admission price, and has a tea house where you can drink matcha and have a sweet for 500 yen.
How much time do you need for a visit?
We took our time, and took loads of photos in the grounds. We spent around 4 hours wandering around, before getting our train to Osaka in the afternoon.
You'll want to stop to take photos of the castle from the grounds but get to the castle as soon as possible. You'll have time to take photos from the grounds afterwards. The later you get to the castle, the more chance you'll have of having to queue to get in.
Too late and you might be given a timed ticket, meaning that you'll have to wait 0.5-2 hours before you can enter. When we got out of the main castle building at around 11.30am the wait was already 1.5 hours.
There's not a huge amount to see inside the building but you do get a feel of what the inside would be like. Inside, prepare for congestion and a lot of waiting around to climb the steep steps that go from floor to floor.  There are good views of the surrounding countryside the higher you climb.
What else do you need to know?
There is an app called Himeji Castle Great Discovery that provides interactive videos and information, such as videos of battles around the castle when you float your smart phone over the castle information sign. There is free wifi by the ticket desk for you to download the app, although we couldn't find it available in our iTunes Store. One of the staff showed us the app and it looked cool, worth downloading if you can.
There are lots of touristy stalls selling souvenirs and food just outside the castle.
We visited in the morning on the way from Okayama to Osaka. It's a beautiful castle with great views from the top. It was very crowded when we were there – you can see why they have to restrict the numbers. Avoid weekends if you can.