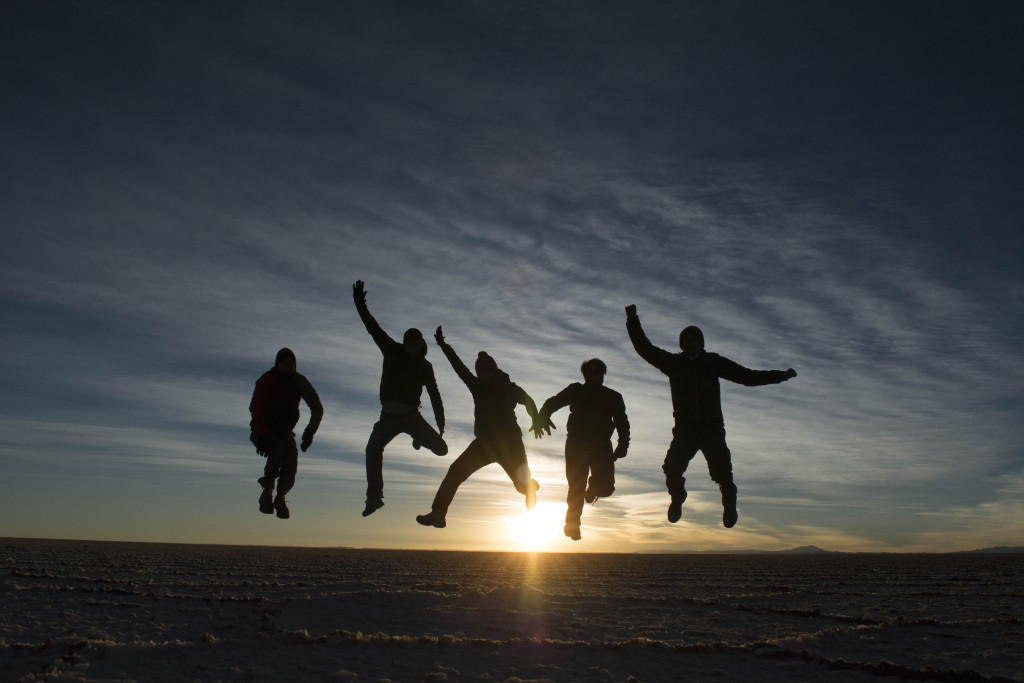 I've been lucky, I've travelled a lot. Some of those trips have been on organised tours, the rest I organised independently.
There are lots of advantages in taking a tour, same with going it alone. Sometimes the choice is clear. For example, a tour may be compulsory in some destinations, like
climbing Kilimanjaro
or travelling around Tibet. Other times, it's not clear whether you would benefit from taking a tour at all.
Here's my take on independent travel vs tour group travel and how to figure out which is best for you:
Are there any benefits in taking an organised tour?
Sure there is:
Tours take out the hassle factor. You rarely have to worry about organising anything yourself, (apart from your flights, and your tour operator will be happy to sort that out for you too). All you need to do, is turn up when and where you're told.
Tours provide someone you can turn to for help if anything goes wrong. Useful if you've just lost or had your phone stolen…
You have someone on hand to answer all of your questions about wherever you are visiting, which can be insightful.
Tours provide other people for you to travel with. Some of these people have become great friends of mine.
Tours provide you with ready recommendations on things to see and do, and places to eat and drink.
Tours can give you access to experiences you might not be able to have while travelling independently. For example, some activities are reserved solely for groups or are difficult, or too expensive to organise independently. I probably wouldn't have gone nightclubbing in Kigali, Rwanda or in Namibia had we not been with tour guides who knew the area or had we not been travelling with a cool group of people, for example.
You may also be encouraged to participate in activities that you might not ordinarily choose, or be bothered to do, if you were travelling alone. I would never have sky dived (as a result of group FOMO), or bungee jumped at Victorian Falls (a bet), had it not been for the group I was travelling with.
So what's the downside of travelling in a tour group?
Depending on the tour, you can find yourself in a capsule, travelling around, not having to interact with any local people yourself, or learning anything about the local culture.
Tours are far more expensive than travelling independently.
You won't necessarily be able to hear everything your tour guide tells you, (or understand if they don't speak good English), especially if you get stuck in the back of a big group.
You are expected to tip your tour leader, drivers, and any local guides. This can add up significantly.
If meals or accommodation are included in your tour, you rarely have any control over where you eat, or stay.
You rarely have any control over your itinerary. You might want an extra day or hour or two somewhere, but it isn't going to happen if you are on a tour.
Occasionally, decisions about your itinerary are made by polling the group, bad news if you're in the minority.
You will often have to see or do things that don't necessarily interest you, and can feel like a waste of time and money.
You will spend a lot of time waiting on your bus – for tour group members who are constantly late, for your tour leader to sort things out, or your driver to wake up from his afternoon nap.
A lot of time and money on tours is spent socialising and getting to know your fellow tour group members. This can be great if you really get on, but tedious if you don't.
Having even one idiot in a tour group, (and there is usually at least one), can test your patience, and spoil the experience for you. I had rocks thrown at my head in Uganda, thanks to one idiot who insisted on taking photos of militant locals who didn't want their photo taken. Groups can be cliquey and political, rifts arise, and divisions form – it's not the relaxing holiday that many hoped for.
If you're on a long tour, you may not have the same group of people with you for the whole time. This can be good if you don't particularly like the group – people leave and new people join. The group dynamic however, often changes as a result which can be disruptive. You will also have to start the whole cycle of getting to know people again.
So travelling independently is better, right?
It's far cheaper. Even if you stay in the same hotels and take similar, or in some cases identical forms of transport, and engage in the same activities, you'll often be paying a lot less in total.
You have complete control over everything – what you do, where you stay, where and when you eat.
You will have access to experiences which are not available to large groups of people.
You have a lot more time and freedom to do whatever you want, whenever you feel like it.
Tour guides can be overrated, especially if it's their first tour, or if they are not from your destination country and have little experience of the area.
You will meet more local people, learn a lot more about yourself, and the local country in which you are travelling. You will be free to surf the waves of serendipity, forge friendships with those you meet along the way, and will generally have a far richer experience than you would have done otherwise.
Also, figuring out, and planning a journey yourself is a lot more fulfilling than paying someone to do it all for you.
But travelling independently is not all fun and games:
Some places are difficult or impossible to travel around independently. For example, tours are compulsory in Tibet, and travelling around parts of Africa can be dangerous or difficult without an organised tour, or your own transport.
You don't have tour guide to automatically turn to for help or advice, or support if something goes wrong.
You're not forced to do things that might be out of your comfort zone which can lead to some travellers spending the majority of their time in hostels, socialising only with other westerners.
If you don't speak the local language, and you can't find many people with which you can communicate, you might have a lot of unanswered questions about the local culture. It's times like these that I wish I had a tour guide.
So which is best, independent or group travel?
For me, the benefits of independent travel far outweigh the negatives. I've had far better experiences travelling independently than I ever have done on a tour.
Don't get me wrong, I've enjoyed the tours I've been on in the past.  I've made some wonderful friends and had some of the best experiences I've ever had in my life so far. Especially the ones I took with
Dragoman
a couple of years ago.
The problem is, tours are expensive. Despite having an amazing time on all tours, there's also been some group politics/rifts that have somehow disrupted the experience a bit.
I recently agonised over travelling to Japan on an organised tour or independently. I have friends who have travelled there independently and others who had been there on organised tours.  The ones who had travelled independently said they had struggled a bit with the language and communicating with people.  Those who had been on tours thoroughly recommended taking a tour.  Tours to Japan are extremely expensive, so in the end, we decided against an organised tour and opted to travel there independently.
I'm so glad we did! For less than the cost of a two week organised tour, we travelled for five weeks there! Language and communication wasn't a problem at all, and we did a lot more than most group tours got round to doing.
Sure you may get more out of a place with a tour guide, and travelling with a bunch of new people can be fun. But, you can also hire your own local guides, read books, meet local people through AirBnB, or couch surf, and make your own friends on the road.
So when should you take a tour?
If it's the first time your travelling to a developed country for example, tours can be a great way to start, and gain some confidence.
If you're travelling alone and would prefer to travel with other people, then a tour is a great way to do that.
Some people have no interest in planning, or are just exhausted and want someone to do it all for them, again, a tour would be a great option. If you have enough money, you could even get an agent to arrange a private tour, just for you.
You may also be travelling to places where a tour is compulsory, like Bhutan for example, or to somewhere you feel is a bit dangerous, (but probably isn't, like Iran), or to somewhere which you feel is difficult to travel to independently, (China, or across borders in some African countries) in which case a tour would be great.
So if a tour is right for me, how do I choose the right tour?
Talk to people and read reviews. Ask for recommendations and accounts of past experiences.
You can often find reliable local tour operators on TripAdvisor or listed in guide books.  Local companies tend to be cheaper than booking a tour through an international company.  Local companies can often provide you with a more authentic experience too.  It pays to check reviews though.  International companies are often subject to more regulations than local companies might be, which can make them more comfortable or safer.
International companies do often outsource their tours to smaller local outfits, so check the small print and try to figure out which companies they use.
Stay away from the big coach tour companies which can include, smaller sounding companies like On the Go Travel.  I went on a trip to Egypt with them years ago and ended up travelling with 40 other people – it wasn't the best experience…
More people in your group increases the chances of encountering idiots who will test your nerves, and will mean a lot of wasted time waiting for latecomers and another 50 people to board your bus.
It's hard to hear what your tour guide is saying if you get stuck in the back of a large group, so consider smaller groups tours like
Dragoman
, Intrepid or Exodus Travel. Bigger tour groups can get cliquey, whereas these companies try to cap their groups to 12-20 people.
---
If you found this article helpful, you might find the following useful:
All You Need to Know About Overland Travel
(Visited 116 times, 1 visits today)