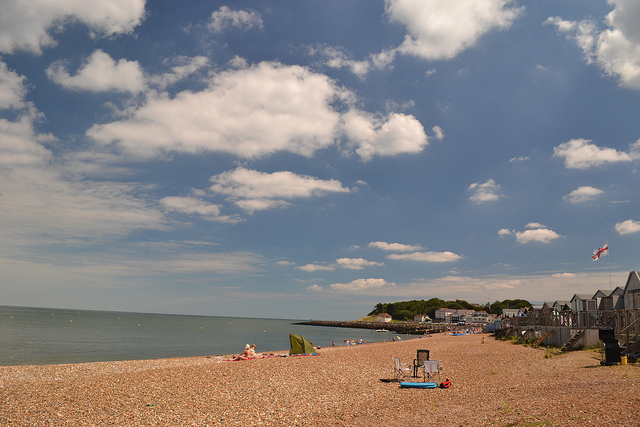 I'm often asked for suggestions on day trips from London.
I always think that London has more than enough to offer! But if you want a break or want to see more of the UK, then this is what I usually suggest.
The places are listed according to their proximity to London. I haven't included Richmond or Greenwich as I somehow classify those as still being in London, (since they are on London's local transport network). I also haven't included the Cotswolds/Stratford-upon-Avon as ideally you need a car or at least a few days to make the most of any trip out there. 
Use the National Rail website for train times and prices, and TFL's Journey Planner to check your journey to the train station (some lines are down on weekends). Don't forget to factor in time to collect or buy your train tickets, (which can be bought online).
St Albans (25 minutes from St Pancras)
You can walk around the Roman old town, have lunch at Foragers at the Verulam Arms, and walk around Verulamium Park and the Roman ruins.  Check out the Waffle House or visit the Cathedral and Abbey before heading home.
Hampton Court (40 minutes from Waterloo)
If you're into Royal palaces or Henry VIII, then Hampton Court Palace is definitely worth a visit.  There are interesting free guided tours, and a picturesque ice rink in winter.  In summer you could also walk up along the river towards Kingston which would be pretty if the weather was good.
Cambridge (45 minutes from Kings Cross)
One of my favourite places. Take a punt on the Cam and walk around the beautiful college buildings. The city is especially attractive when the sun is shining.  You can visit a few of the colleges too if you plan ahead and make a reservation.
Windsor (50 minutes direct from Waterloo or 40 minutes from Paddington with a change in Slough)
Home of Windsor Castle, and definitely worth a visit.  Get the audio tour to make the most of it, or if the weather's fine, take a picnic and enjoy it in the vast castle grounds. Windsor itself has a few oldy worldy buildings and lots of tourists.
Brighton (50-60 minutes from Victoria or London Bridge)
Great if you want a taste of a traditional English seaside village and some good fish and chips. Also check out the Evening Star, the local Dark Star brewery's pub.
Canterbury (60-110 minutes from St Pancras, Cannon Street or Charing Cross)
Home of the huge Canterbury Cathedral and an oldy worldy town.
Oxford (70 minutes from Paddington) 
More college buildings, and some great pubs, including the thirteenth century Turf Tavern and The Eagle and Child where Tolkien and C.S. Lewis drank.  If you're interested in Sir Winston Churchill and have time, take the bus to Blenheim and visit Blenheim Palace.
Bath (90-110 minutes from Paddington)
Check out the beautiful Bath Abbey, the Roman Baths, Prior Park and the famous Royal Crescent before relaxing in the Thermae Spa.  If you're into coffee don't miss Colonna & Small's coffee shop or drink some local beers at The Raven.
Whitstable Oyster Festival, Kent (late July/August – 100 minutes from London Cannon Street)
Worth visiting for the beer and oyster festival in July.  Shuck some oysters, enjoy a crab sandwich and have a walk along the beach.  Check out the website for more details of the events.
Eastbourne (100-110 minutes from Victoria)
A pretty seaside town where you can walk the last/first section of the South Downs Walk along the white cliffs past Beachy Head and the lighthouse towards Seaford. It's a nice walk if the weather is good.
New Forest (115 minutes from Waterloo)
Get the train to Brockenhurst in the heart of the New Forest.  There you can hire bikes from the train station and cycle right into the traffic free forest. It's beautiful on a sunny autumn day.
The Sen Spa at Careys Manor is also worth checking out. If you've hired a car, you can drive down to Lymington for some fish and chips, or there are heaps of decent gastro pubs around.
Bournemouth (120 minutes from Waterloo)
It is a long way but if you want a sandy beach this is probably one of the best in the UK.  There are some good seafood restaurants too. Stay the night if you can and the weather is good.
(Visited 17 times, 1 visits today)