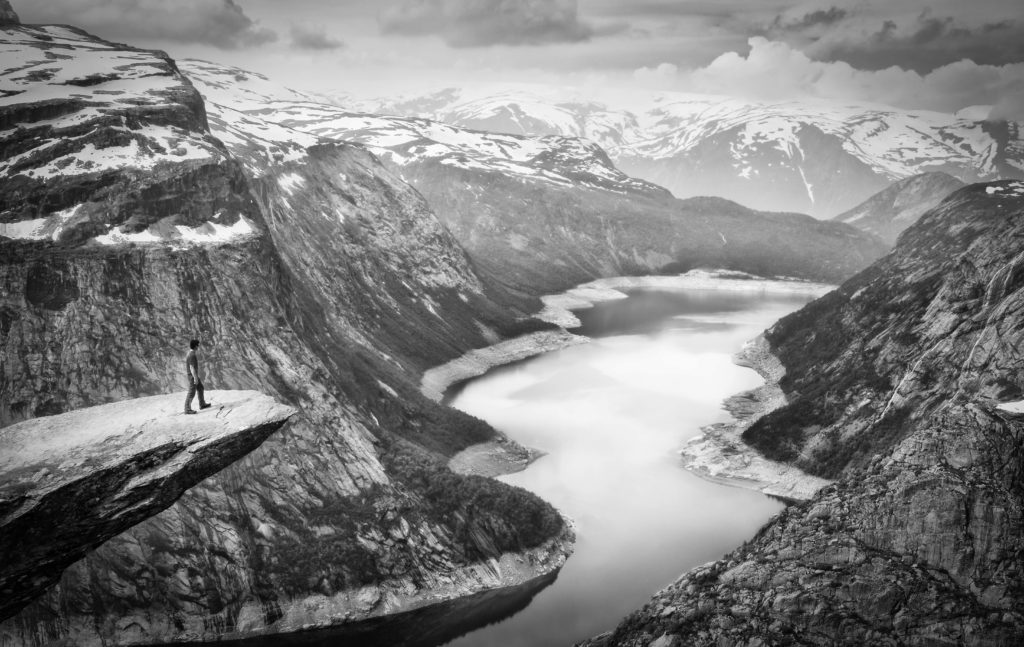 "Because in the end, you won't remember the time you spent working in the office or mowing your lawn. Climb that goddamn mountain." – Jack Kerouac
It's been a while since I've been climbing mountains.  I miss it.
Having said that, this particular hike was gruelling!   Hiking the Trolltunga involves a 1,000m ascent (3,000 ft), and took us about 12 hours roundtrip.
It was our last big hike of the summer.
I'd punished my body up to that point.  We'd hiked the Besseggen Ridge a day or so before and hadn't slept much since.  I'd injured my left leg somehow and wasn't looking forward to the infamous Troll's tongue!
We were one of the last to arrive at the crowded campsite in Odda and managed to find an empty patch of mud to pitch our tent.  We were ravenous and it was late by the time we had anything to eat.
It rained persistently until the early hours. I was awake from 3.30am when people started leaving the campsite because of leaking tents.
Still, it's what we had come to this part of Norway to do, and Andrew was keen.  We were "lucky", the rain had stopped and the morning would be clear for hiking. Yay…!
The first part of the trail is a steep wall of large wet stone steps awash with mud.  I was exhausted, in a fowl mood and hadn't even started yet. I was covered in mud, slipping all over the place.
I'm ashamed to say that I stopped talking to Andrew at that point and had a mini tantrum an hour or so into the hike.  I was tired and acting like a child!  Even though it was July, there was a lot of ice and snow melt around, and over a metre of snow on the higher plains.  I was in pain and my feet were soaking wet.  It was going to be a long day – for both of us!
Thankfully we both managed to reach the Troll's tongue together and in one piece.  The view was cool albeit hazy, and walking up the Troll's tongue wasn't as daunting as it looks.
On our way back, the snow obscured some of the sign posts and we ended up walking a lot more than we should have done.  It started raining again.  I couldn't wait to get back to the car!
I was glad we'd gone, I just wished I'd had an extra day to rest and prepare for it!  Although had we done that, we would have missed the short window of dry weather we had to hike. It's funny how things like that turn out.  It reminds me how I should't complain, even when things look like they're not working out. Things do work out for the best, it's just hard to see how sometimes!
(Visited 20 times, 1 visits today)