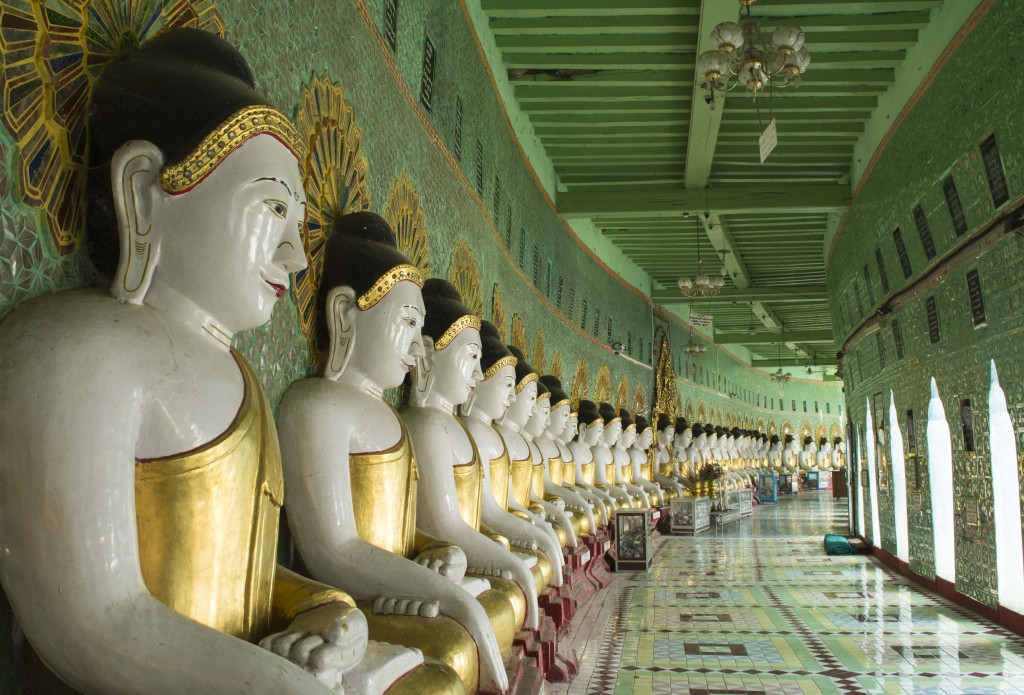 Why go?
Burma/Myanmar is a beautiful country with a wealth of things to see and do.  It is like no where else in the world and we loved it (despite getting sick for a few days, which pretty much everyone we met did too)!  The country's changing all the time, and developing quickly, so visit sooner rather than later if you can.
How hard is it to – Burma/Myanmar travel?
Despite only making it onto the mainstream tourist trail relatively recently, the infrastructure is good,  it's easy to get around, English is widely spoken, and there are plenty of places to stay and eat.
You can easily travel independently.  The political situation is slowly improving but there are still issues.  A lot of the bigger hotels and tour agencies do use a lot of businesses that are connected with the government which some people may want to avoid.  Having said that, these places often employ a lot of local people.
Because of our budget, we wanted to stay in cheaper accommodation which incidentally are usually smaller businesses.
If you want to book accommodation in advance, then you might have to do some research, and pay an agent or wait until you reach the country to book some places.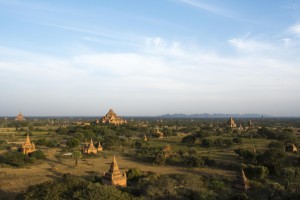 How long should you go for? How much time do you need?
Tourist visas are usually issued for up to 28 days (see the section below on visas).
A week would be enough for a rushed visit to see the main sites, maybe Yangon and Bagan, and maybe Mandalay or Inle Lake.
Two weeks would give you time to comfortably visit Yangon, Bagan, Mandalay and Inle Lake, and maybe some of the surrounding sites like Kakku, and Pyin-oo-Lwin and/or Hsipaw.
Three weeks would give you time for the above, plus a visit to Bago, and the Golden Rock.  If you don't fancy the schlep to Golden Rock, you could fly or get the bus to one of the beaches in the south such as Ngwe Saung, or Ngapali on the west coast of the country, and maybe Mrauk U.
Four weeks would give you time to comfortably see all of the main sites and their surrounding areas: Yangon, Bagan, Mandalay, Inle Lake, Pyin-oo-Lwin, the Golden Rock, and some of the beaches in the West or around Mawlymiyne south east of the Golden Rock.
Check the political situation before visiting Kashin State and Rakhine State in the west of the country where Ngapali and Mrauk U are located.   In 2014 when we visited, the FCO was advising against all but essential travel to these areas.  This would mean that some travel insurance policies may not cover you in those areas.
How do you get to Myanmar?
Getting to Myanmar is pretty straightforward. The easiest way is to fly into Yangon or Mandalay.  Check Skyscanner for cheap flights to Myanmar.  We booked cheap tickets to Burma with Air Asia from Bangkok to Mandalay, and then out of Yangon to Phuket.
You no longer need to enter and exit the country from the same place.
Crossing the border overland into Thailand is also possible, and also from China, although I have no idea how easy any of those crossings would be to arrange.
Do you need a visa in advance?
Yes, you will need to obtain a visa in advance before you leave for Myanmar/Burma.
We got ours by visiting the Myanmar Embassy in Bangkok, and used the same day service.  It was a simple procedure that involved queuing for a short while in the morning and picking up our passports with our visas in the afternoon.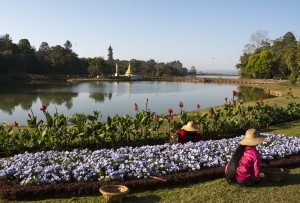 If you don't want to travel via Bangkok or want to save time, then you will need to get a visa in advance from your nearest Burmese embassy/consulate.
Do you need to take US dollars with you to Myanmar/Burma?
Yes, you do.  When we were there in 2014, we managed to find at least one ATM in Yangon and Burma that accepted foreign cards. However, we were told that they were unreliable. They also charged $5 for each transaction regardless of how much you took out.
Rather than risking money issues, take USD with you.  Some upmarket hotels do take credit card but if you are staying at cheaper places then you will need to pay with USD cash.
To figure out how much USD you will need to take with you, it helps if you figure out where you want to stay, (or the types of places and how much they typically cost).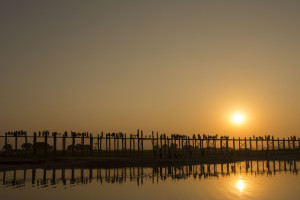 Make sure that US dollar notes are dated post 2008 and are crisp, clean and in good condition.  Bills that are old, torn or marked will not be accepted.  (We were a bit stressed about this to begin with but it wasn't that big a deal).
For the best USD rates, get your USD at home before you leave. We use Travel Money Max (which is part of Money Saving Expert) to compare rates.  You often get the best rates if you order in advance.
As we were on the road, we got our USD in a Western Union office in Pondicherry, India.  Miraculously, our bank's fraud department didn't block us buying $1,000 of Indian Rupees from Western Union on our credit cards, (but they can't handle a £10  mobile phone credit transaction…).  We later changed the rupees into USD.  I wouldn't recommend buying your USD in this way however.  We lost money by exchanging our money twice and had to pay a cash advance fee to our bank.
Should you visit Myanmar via an agency/on a tour/or independently?
We travelled independently and had no issues arranging transport and finding guest houses to stay in despite travelling at peak season (early February).  Guides were available or could be arranged in most places if we wanted them.
Transport was easy to arrange.  Tourist buses ply most routes, and some were particularly comfortable such as JJ Buses who took us from Inle Lake to Yangon over night, (the best buses we have experienced in Asia – they even rival those in Argentina!) . We caught local buses between Yangon and Golden Rock which were fine.  If you have the budget, you can easily hire a car/taxi that will drive you around instead.
If you don't mind paying a premium and (depending on the agency) having less control over where you might stay, then you could pay an agency to arrange transport and accommodation for you, and maybe tour guides.  Some local agencies you can contact are listed on TripAdvisor.
If you want to go on a tour then check out the usual Intrepid, G Adventures, and if you have more money, maybe Audley or Trailfinders.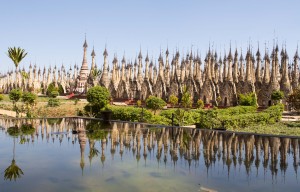 There are plenty of tour groups in Burma.  Most of the ones we saw were coaches full of older people, mostly French it seemed.
The Advantages of Tours
Tours are great if you are travelling alone as you meet other people, don't have to worry about anything, and you usually get decent tour guides that enhance your experience.
The Disadvantages of Tours
The downside is that they tend to be a lot more expensive, you have less flexibility or control over where you go and how long you stay in each place, and sometimes it can feel like you are in a bubble with little interaction with local people.  (I find that we spend a lot more money drinking and eating out when we are with other people too). You also have to budget for tipping all your tour guides, so a tour can end up costing a lot more than you expected.
When is the best time to visit Myanmar/Burma?
October to March is the dryer period. It's also cooler, although the south and Bagan will still be very warm.
Having spent a miserable ten days in the Indian monsoon, I wouldn't recommend travelling during the wet season. It can also be difficult and more dangeroud to get around if there are land slides or heavy rain, and some businesses close down when there are less tourists.
How much does it cost to visit Myanmar/Burma?
Expect over priced accommodation, (compared to prices elsewhere in South East Asia).  In general however, the places we stayed at were comfortable, clean and had hot water and a private bathroom for around $25-30 per night for a double room. We paid about $45 in Mandalay and $100 for a place near the Golden Rock.  All the places we stayed at had free wi-fi although it was pretty slow most of the time.
Public transport, food and the odd taxi is fairly cheap.  Day tours and guides are more expensive and vary depending on the number of people  with which you can share the cost.
Most of the sights are Buddhist temples which are free or involve a small donation.
All in, I think we spent around £1,200 for two people over three weeks including return flights from Thailand, an expensive night at the Golden Rock and a few expensive day trips around Mandalay.
(Visited 58 times, 1 visits today)