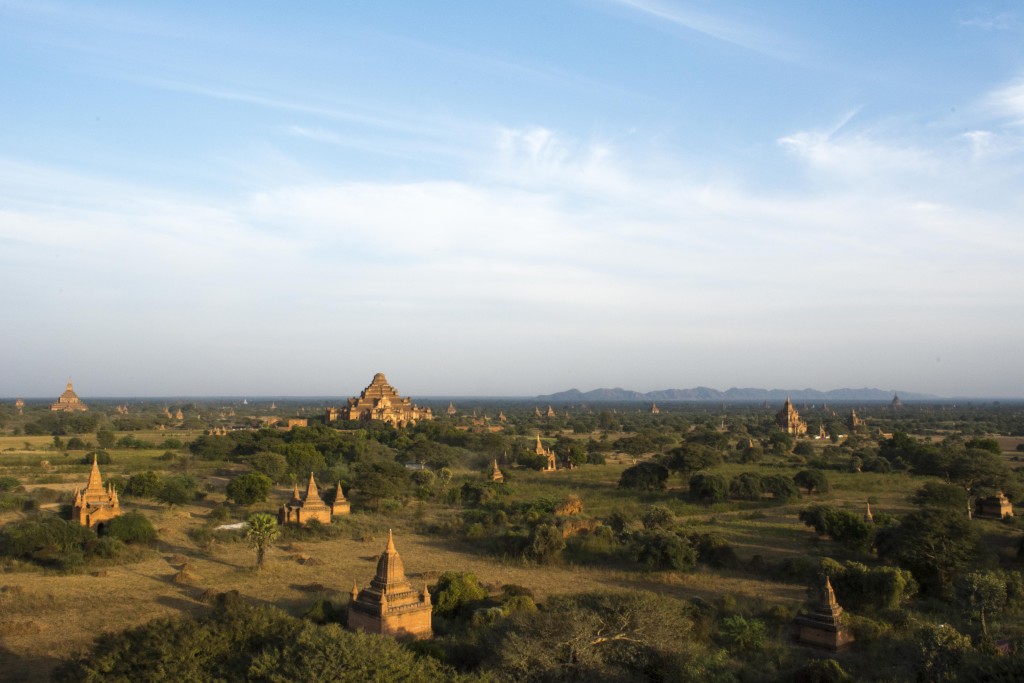 So what are the best places in Myanmar? Where should you stay and how long should you stay in each place?  The list below indicates how long I'd recommend you need in various places in Burma/Myanmar.
How do you book accommodation?
It's becoming easier to book online via Booking.com or using e-mail.  However, some places still need you or someone who can speak Burmese to call on your behalf to confirm your booking.  If you need to do this, ask a travel desk at one of the places you stay to help you out.
If there is a specific place or budget that you want and you are travelling in high season, book ahead if you can.  We had read about accommodation being fully booked at high season, so did try to book some accommodation in advance.  I'm glad we did as the best places seemed to book up.
We used recommendations from friends who had visited, as well as recommendations on TripAdvisor, Lonely Planet and Booking.com.
Yangon/Rangoon
(Recommended length of stay 2+ days, not including arriving/leaving)
This is the capital of Myanmar, so don't miss it.
The guesthouse called Mother Land Inn 2 was sold out when we arrived so we were glad that we booked it in advance.  The staff were very helpful and friendly.  They  arranged accommodation for us on top of the Golden Rock mountain in advance. They also recommended a place to stay in Bago.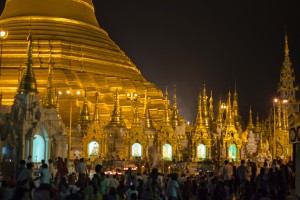 We managed to book the recommended Mother Land Inn 2 via email, although it did involve us having to transfer money to pay for it in advance.  We did this via Western Union which involved a hefty admin fee at the time, and several calls to our bank's fraud department which kept blocking the transaction.
Mandalay
(Recommended length of stay: at least 2 days for Mandalay and Mingun, 1 day for Inwa, Amarapura and Sagaing, and 1 day for Pyin-oo-Lwin not including arriving/leaving)
We flew in to Mandalay and stayed at the 79 Living Hotel which we booked in advance via Booking.com.
The hotel's travel desk arranged boat tickets to Bagan, as well as an English speaking taxi driver who basically became our tour guide to take us to see the sites in the surrounding area (Mingun for half a day, Sagaing/Amarapuram/Inwa on one day; and Pyin-oo-Lwin on another day).
There are quite a few sites to see in Mandalay, plus the walk up Mandalay Hill to see the sunset.
If we had time, we would have visited Hsipaw as well and dropped in on Pyin-oo-Lwin on our way back from there.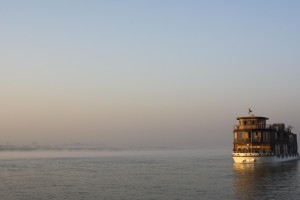 Bagan 
(Recommended length of stay: 3 days, more if you like temples) 
We arrived via boat from Mandalay.  The boat left at 7am and arrived around 5pm.
We stayed at the May Kha Lar Guest House just outside New Bagan. We made the booking by getting our hotel reception in Mandalay to call on our behalf.
It was about a 20-30 minute ride on an electric bike to the temples in Old Bagan.  It would take longer if you were cycling on a traditional bike. The place was fine but the location was not great. If I visited again, I would stay somewhere closer to town, maybe with a pool or a private balcony, as it gets hot in the afternoons.
Kalaw
(Recommended length of stay: maybe 1 day including arrival.  There is not much to see. Add an extra day if you want to take it easy, and have time to arrange a walking tour to Inle Lake, or if you want to do a day walk in the surrounding area.)
We stayed at the Eastern Paradise Guest House which we booked by getting our reception desk in Mandalay to call on our behalf.  It was cheap, clean and had a wonderful breakfast – the best we had in Myanmar – great if you're starting a walk to Inle Lake.
Trek to Inle Lake from Kalaw
We arranged a fabulous 3 day/2 night walking tour from Kalaw to Inle Lake with A1 Trekking. E-mail the owner San Linn sanlinnkalaw@gmail.com to arrange a tour. San Linn also offers one day walks, and a two day, one night walk.
This was one of the highlights of our Burma trip.  Our guide, Jake, was excellent, spoke fluent English, was knowledgeable,  friendly and gave us a great insight into Burmese culture.  Nights were spent in two local houses, and the company provide a local chef who shops and cooks food for lunch and dinner.  The food was superb and the countryside was beautiful.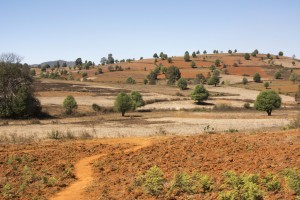 Apart from the first day, most of the walk was over undulating countryside which would have usually been fine for me, but I did find it harder in the heat.  The walk is about 60+km and my feet were VERY painful by the time we got to Inle Lake, so it was great having somewhere nice to check into.  A1 Tours had already driven our big bags to the hotel we had booked so they were waiting for us on arrival. I really can't recommend A1 Tours highly enough.
(We had arranged with San Linn to start the walk with a particular guide who had good reviews on a certain date in advance.  However, Andrew got sick in Bagan, and was still ill by the time we arrived in Kalaw, so we couldn't go but San Linn was really understanding.  We arranged to spend another night in Kalaw to give Andrew time to recover, and decided to go on the walk the following day.  This was one of the best things that happened to us, as we were joined on the walk by three awesome French people and had a different guide called Jake who was amazing.)
Inle Lake
(Recommended length of stay: 2 full days for Inle Lake plus an extra day to visit Kakku).
We stayed at the excellent May Guest House in Nyaungshwe, which I would recommend.  We managed to make a booking in advance by e-mailing mayguesthouse@gmail.com.
The reception at this guest house was very helpful and arranged a taxi and guide to visit Kakku, and JJ Bus tickets to Yangon.
Nyaungshwe is the main town on the top of the lake where most of the restaurants, bars and guest houses are so I would recommend staying there over anywhere else.  There are a few more luxurious places along the sides of the lake but they are quite difficult to get to and I guess, you would have to eat there in the evenings,
It was cooler when we visited in Inle Lake so I don't think you need a pool here.
There are lots of agencies in town where you can rent bicycles and cycle around the local sights and vineyards.  You can also arrange a boat trip that will take you around the local markets and floating villages.
Bago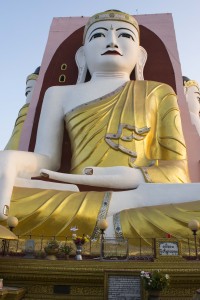 (Recommended length of stay: 1 day if you arrive in the morning or by lunch)
Visit Bago if you're interested in lots of Buddhist temples. If you're not that bothered, then cut it out of your itinerary.
We arrived by train from Yangon which took around 2 hours.
We left our big bags at the Motherland Inn II and caught a train to Bago with just an overnight bag.  We arrived in the morning, checked ourselves into the guest house recommended by Mother Land 2, Mya Nanda Hotel and arranged a driver to take us on a tour of the local sites at the last minute.  The guest house owner arranged onward bus tickets to Kyaiktiyo for us.
Golden Rock
(Recommended length of stay 2 days including arrival and leaving)
We arrived to Kinpun (the main town where you get a jeep to the Golden Rock) by bus from Bago, which took around 3 hours.  It's about 5-6 hours from Yangon depending on the traffic.
This is  a really popular destination so book your onward/return bus tickets as soon as you arrive.  We booked next day return tickets to Yangon first thing in the morning  and some buses were already sold out.
If you want to experience the sunset and sunrise at the Golden Rock, and hear and see the night time vigils, then you will need to stay at a tourist licensed hotel on the top of the Golden Rock.  There are few hotels at the top, they are expensive, usually full of tour groups, and sell out, so book at least a few months in advance if you can.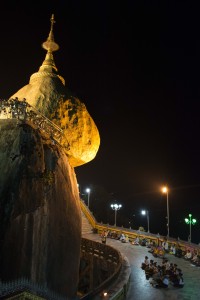 If you are staying on top of the mountain, then I would highly recommend only going to Kyaiktyo with an overnight bag and leaving your big bag in Yangon/Bago.
To get to the top of the mountain, tourists are squished into large 4×4 vehicles, for the 45 minute journey to the top.  You will have hardly any room to sit let alone carry any proper luggage.
People have written about how traumatic they found this jeep journey (see Legal Nomads no. 5). Maybe things have now changed or we had low expectations, (we had also just come from India where the driving is insane), but I found the whole thing fine and well organised – nothing to worry about.  There were parts of the road where vehicles had to wait for cars to come from the other direction, but you didn't have to wait for long.  The vehicles we drove in were driven at a reasonable speed.
You are squished in to the jeep, with at least 6 people in each row, but if you're that bothered or in pain, just pay the price for two people (about an extra US$5).  This is what we saw two fat white people with private guides do.  This meant they only had 3 people in a row.
If you're not bothered about the sunrise or sunset, then you can stay in the town at the bottom of the hill, just make sure that you don't miss the last jeep down.  You can walk but it takes a long time. The locals tend to sleep on the floor by the rock but technically, western tourists are not supposed to do that, and it does get very cold up there.
The Mountain Top Hotel is the nicest place to stay on the mountain, and you can book online now via the hotel's website.
If the Mountain Top Hotel is booked up,  as it was for us, there is another option which is just as expensive but a lot more basic.  The Mother Land Inn 2 made a reservation in advance on our behalf but we did have to transfer the money to pay for it in advance.
We later found out about a cheaper hotel which is also at the top of the mountain but there seemed to be some confusion as to whether or not it was licensed to take foreign tourists or not.
(Visited 66 times, 1 visits today)