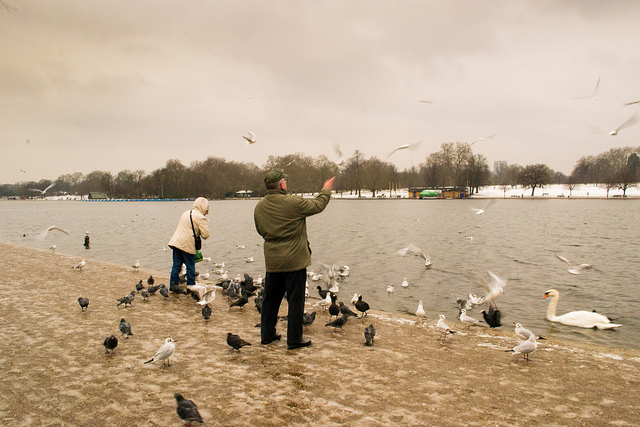 The Royal Observatory and the views from the Wolfe Statue are definitely worth a visit.  There is also a deer park too.
This place is huge.  For me, it's best explored by bike (which you can hire from Roehampton Gate).  The cycle paths are traffic free and you're almost guaranteed to come across some deer.  The rutting season during autumn  is particularly interesting if you want to see some some antler bashing action as the male deers fight to have sex with the ladies.  Don't miss King Henry's Mound and the protected view to St Paul's Cathedral (very cool).  From there, it's a nice walk to the river where you can walk to Richmond town.
Compact  but worth visiting for the Japanese inspired Kyoto garden – not something you'd expect to see in the middle of London.
Very leafy and tranquil with a great view of Buckingham Palace and lots of pelicans – you can get some beautiful photos from Blue Bridge.
Take a picnic and enjoy the beautiful views from Parliament Hill.  Watch the kite flyers, or in summer you can enjoy a concert near Kenwood House.  On a hot day, there's no better place to be for the lido or a dip in one of the ponds.  Don't neglect the West Heath either, perfect in autumn when the leaves are changing.
Not what it used to be about a century ago but worth a visit if you're in the area.  You have decent views of London from the top of the hill and there is also a dinosaur park.
For a real challenge, this is a 78 mile circular walk around London.  It's split up into sections so you don't have to do it all in one go.  Signage is not great so it's worth getting some sort of map or having an idea of where you're going.  It will definitely take you to parts of London that you might never have visited otherwise.  The most picturesque sections are Richmond Park to Osterley Lock (section 7); South Kenton to Hendon Park via Harrow-on-the-Hill (section 10); and Stoke Newington to Hackney Wick (section 13).
(Visited 19 times, 1 visits today)