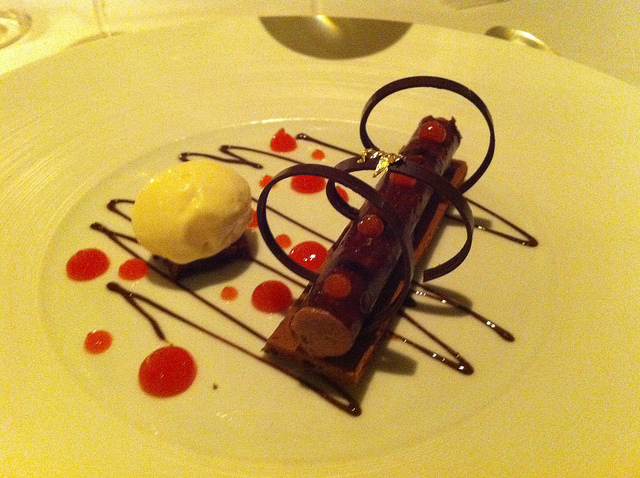 Most fine dining restaurants in London serve French food, and they are consistently good at it. Few Michelin star establishments offer anything different or exciting.  If you've had one well cooked pork belly, how good can another one be?  Thankfully there are a few cheaper and more interesting places popping up.  Here are some of my favourites:
Cheaper than Michelin
Terroirs (Trafalgar Square/Charing Cross)
One of my favourite wine bars.  It has a fabulous selection of organic wines and lots of tasty French dishes to enjoy them with.
Brasserie Zedel (Piccadilly Circus)
A grand Parisianesque dining room with good French food at reasonable prices.  Cheaper than getting the Eurostar.
The Giaconda Dining Room (Soho)
A small restaurant that serves outstanding food.
Duck Soup (Soho)
Freshly cooked food with some decent wines and friendly service.
Andrew Edmunds (Soho)
One of the oldest restaurants in Soho, cozy and romantic.  Food is good and you can book.
Les Deux Salons (Trafalgar Square/Leicester Square)
We enjoyed a fantastic pre-theatre 3 course meal here – good value, and the place has a decent wine list.
Pierre Victoire (Soho)
Not amazing but a great option for a decent priced duck confit and potato dauphinois if you've been shopping.
Michelin Star/Expensive
Le Gavroche (Mayfair)
An institution representing the crème de la crème of French fine dining.  There are a few times where I have eaten far too much….. this was one of those dangerous occasions but well worth it! The food is amazingly rich, expensive, and very French.  Servings are generous and divine. Michel Roux make the rounds to see how his guests were enjoying his food personally, not sure if he still does though – has been a while since I've been.
Marcus Wareing (Knightsbridge)
This place blew me away.  It was my first fine dining experience and I thought it was amazing.
Gordon Ramsay but it's really Clare Smyth but that's okay at Hospital Road (Chelsea)
You might have to re-mortgage your house, but you can't deny that this place is good.  Service is excellent and the food is of the highest standard. The desserts are works of art.
La Trompette (Turnham Green)
Out in west London but worth a visit if you want some good French cooking.
(Visited 23 times, 1 visits today)