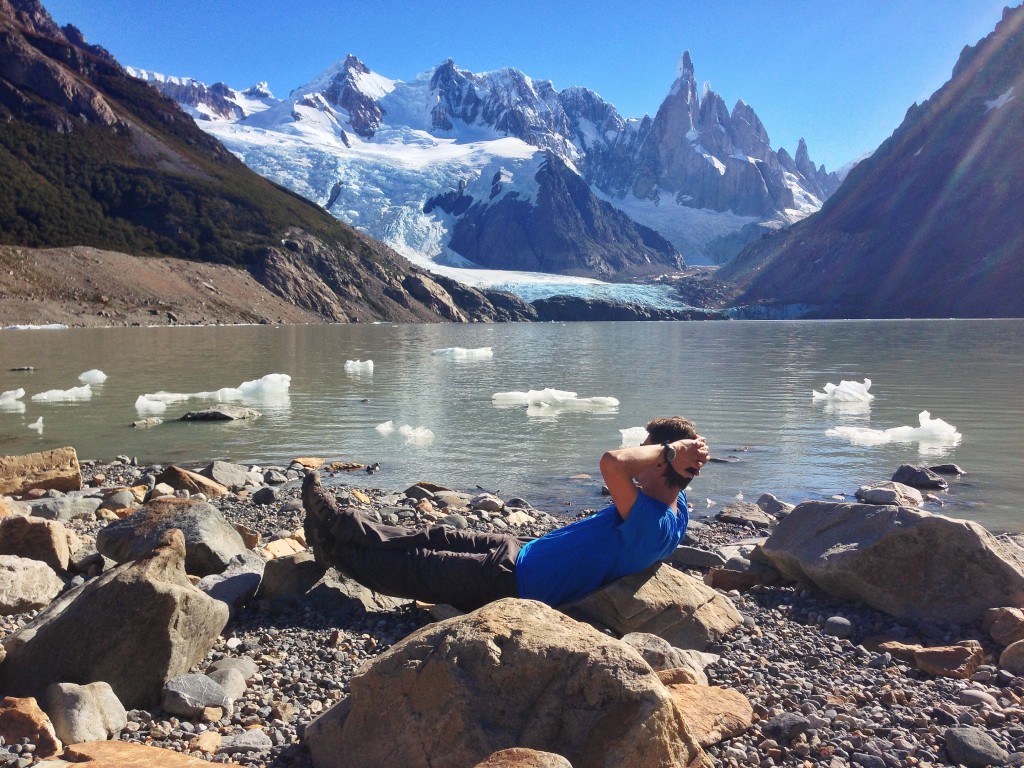 I'd heard people rave about the long haul buses in Argentina, "they're like business class flights" I was told, "you'll love them!".
So, I was pretty disappointed when our first long haul bus journey was on an average looking bus with a stinky broken toilet with the heating cranked up to sauna temperatures. Here's a take on what I believe were the best buses in Argentina on our trip.
El Chalten to Bariloche
That was the direct bus from El Chalten to Bariloche. It was the only one that did that route directly, and took 24 hours. That's right, 24 hours!
The bus went along the famous route 40. I have no idea why it's famous. It's supposed to be scenic, but the parts I saw were not. It just looked like desert.  I don't know what what the fuss is about. Maybe it was more scenic towards Bariloche – but that section of the journey was done in the dark.
The food was inedible and it arrived over two hours late….
No tags for our luggage either, (which means that it's easy for someone else to take your luggage "by accident".
On the plus side we saved a few dollars and a few hours….woo hoo!
The other option was going back to El Calafate and taking a much more comfortable Taqsa bus to Bariloche, or doing a two day journey along the Ruta 40 with Chalten Travel. We should have chose one of those!
Puerto Madryn to Bariloche
Fortunately things got better from then on.
We got between Puerto Madryn and Bariloche on a direct Mar y Valle service.  From what we could figure out, this was the only bus company that run the route directly without having us change buses.
It left Bariloche every day but Thursday at 5pm.
The heating was still cranked up pretty high,  food wasn't great and downstairs smelt of diesel fumes.
It was pretty comfortable though.
You can't buy tickets online, only from the office at the Bariloche bus station which was only open after 4pm each day for a few hours.
Puerto Madryn to Buenos Aires
Next we had
Don Otto
between Puerto Madryn and Buenos Aires.
This company was recommended to us by our hostel owner.
 The best thing about this bus was the free coca cola, an edible cheese and ham sandwich with the crusts cut off, alfajores and awesome entertainment – oscar Winning Cate Blanchett's Blue Jasmine and the Internship. Not bad!
Our luggage were given security tags so that only we could claim them too. Would recommend them.
Puerto Iguazu to Buenos Aires
Thankfully things got even better! Yes even better than "free coca cola, an edible cheese and ham sandwich with the crusts cut off, alfajores and awesome entertainment".
We managed to get a last minute ticket for 700 pesos in cash.  That was for a cama seat between Puerto Iguazu and Buenos Aires with
Crucero Del Norte
.
This was like flying first class! The coach had a beautiful attentive hostess who served us drinks throughout.  We had three good meals including a hot one which was offered with a selection of wines or soft drink.
We watched the entertainment, a couple of kids films and Taken 2 with whisky on the rocks.
We were all then asked to close our curtains to minimise the internal light for people to sleep and woke up refreshed.
Definitely our favourite bus company so far.
Buenos Aires to Mendoza
Then there was the creme de la creme of first class bus journeys.
Andesmar's service along this route was direct with no stops.  Our seats had individual TVs with a selection of movies and Bose type noise reducing headphones!
We were served a hot meal; complimentary alcoholic drinks; we got to play bingo; got given a glass of champagne after our meal and it even had a nice clean toilet!
Seats were comfortable leather ones, and we slept soundly.
The temperature was not as hot as other services but still fairly warm which I found difficult.  It was autumn when we were travelling so pretty cold outside but not that cold!
Temperature control was definitely one thing I struggled with. I'd be sweating and sitting there in shorts and t-shirts and still be hot.  Wear layers people!