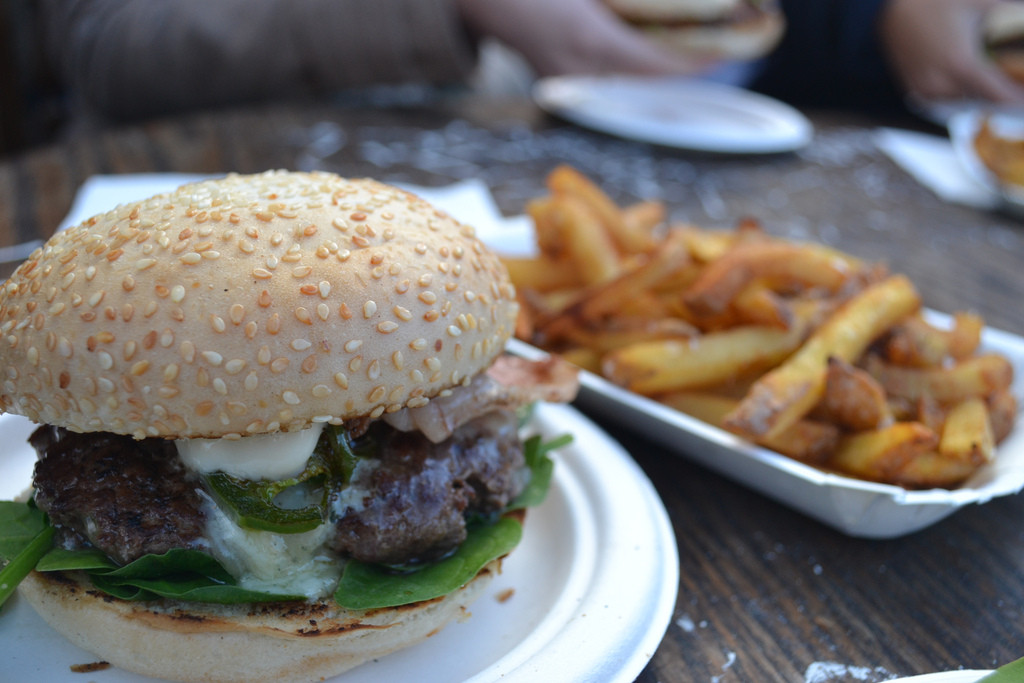 For me a good burger has to be made from good beef (no gristle thank you!) has a decent amount of seasoning, a good sauce, is nicely grilled on the outside and not overcooked on the inside.
Getting into a burger joint in London in the evening can feel like trying to get into a club at 11pm on a Saturday night.  Expect to queue or get there early.
Here are a few of the best burger places in London that have impressed me so far:
Lucky Chip (above) currently at the Sebright Arms in Hackney and the Slider Bar in Soho.  I have queued for ages for these burgers but they've been worth it! The chips are also fabulous.
Spuntino, not really a burger joint (more American style tapas) but it does serve a great selection of sliders.  One of my favourite restaurants with excellent music and atmosphere, with a decent selection of bourbons.
Honest Burger, one of my favourite places in Brixton Village Market and Soho, with more branches opening up all the time.  Incredible value despite the burgers being a bit smaller than the rest.
Patty & Bun, one of the coolest and most popular venues in Marylebone, burgers are big and tasty.
BrewDog Camden, probably some of the tastiest and interesting burgers that I've had for a while, well worth checking out.
Shake Shack in Covent Garden, I know, I know, it's an American chain that's all over the world now (even in Dubai airport), but the burgers are good, and I really like those cheesy curly fries.
Lucky Sevens, a 50s style American diner on Westbourne Grove, great decor and great burgers and milkshakes.
Hache, in Camden, has a fabulous selection of quality burgers.
Meat Liquor, now based behind Debenhams on Oxford Street and at Meat Market (more basic version) in Covent Garden, is another name that's caused a lot of hype with queues around the block.  The restaurant is cool – fabulous decor and a great range of cocktails.  Burger's aren't bad either.
Byron, the chain that's really grown over the last few years and have become  a little more inconsistent as a result.  Still it's usually a safe bet if there's nothing more interesting around.
Woodwoods Farm, (at the Real Food market). I was a bit worried that these burgers would be dry without the usual condiments – how wrong could I have been! The meat was succulent and flavoursome yum yum!  Northfield Farm at Borough Market is also consistently good.
(Visited 21 times, 1 visits today)