Last year was bad. This year was emotionally much harder.
At times it felt like I was being buried alive. Other times – like I was constantly being kicked in the head.
It hasn't all been tough though:
Travel
South Australia
I was fortunate to start 2017 in Australia in the company of great friends – Dave, Claire and baby Gracey, at Kyles and Sean's palace on the beach in Adelaide.
We caught up with Andrew's sister Julie and her husband Terry, and kids before they flew to Nepal where they currently live working for a charity.
We got to see Dave and Claire in their temporary abode while their Taj Mahal was being built; and we enjoyed a brilliant barbecue at Phil and Soph's with Michelle and Simmo.
Our friends in Oz are generous. There's always a lot of amazing wine on offer. We don't have friends who appreciate good wine in the UK. I really miss drinking with them. Good wine always tastes better when it's shared.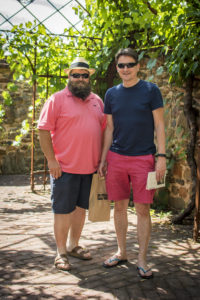 We spent a lot of time in the Barossa catching up with family and Adrian and April and other friends from Andrew's childhood.
Adrian and April kindly arranged an amazing three hour spa treatment for me, which was extremely generous. They also organised a beautiful lunch in the adjoining restaurant with Trav and Vicky. Adrian kindly bought a 1975 Penfolds Grange (the year the guys were born),  for us all to share which was special.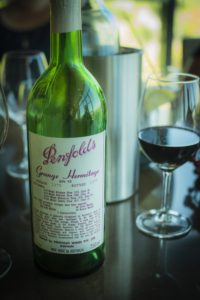 Other highlights included Adrian taking us wine tasting; meeting the awesome Travis Earth (Travis' mataros are the best I've ever tried); and attending a North of the Barossa lunch with Chris Ringland and Frazer McKinley (Mr Sami Odi) and his lovely wife, (Sami Odi is one of my favourite wines). We drank some phenomenal wines, and I really enjoyed talking to everyone – they are brilliant people.
You can buy their wines at Hedonism or Berry Bros, (Ringland's wines are superb although uber expensive; Sami Odi is hard to find as it's so good and sells out so quickly).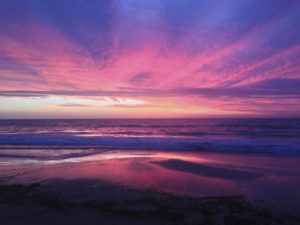 We chilled at an apartment by the sea in Glenelg for a few days. I love being by the ocean or near water. We watched some amazing sunsets and did a lot of walking up and down the beach.
We've rarely made time for ourselves in Oz, so it was good to have some chill time, even if it was just a part of each day.
We also did a few wine tasting day trips to the McLaren Vale, and the Adelaide Hills where we caught up with Andrew's other sister, Karen.
Sydney
We headed to Sydney to catch up with our honeymooning friends, Gee and Kunal.  It was great to catch up. We did the stunningly beautiful walk from Coogee to Bondai, and explored Watson's Bay and the gorgeous botanical gardens.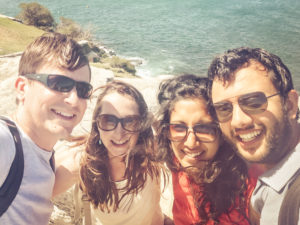 We caught up with Graham and Clarina and their kids a couple of times and enjoyed some of Graham's best wine (thanks dude!). I really miss our friends in Oz.
We also got to to go to Longrain for good Thai and a few cool bars; and returned to Manly to watch the surfers on the beach.
I really love Sydney!
It's one of the most beautiful cities in the world.
I love the vibe, the restaurants, the coastline, and the topography. It's always been a place we considered moving to. The trouble with Australia is that our friends and family are spread over 4 locations, hours apart (flying) from each other.
Melbourne
Before we went home, we spent a few days in Melbourne catching up with good friends Tessa and Sandy who took us for an awesome meal at Lee Ho Fook. We wandered around the beautiful botanical gardens and the graffitied walls and had dinner at Coda which was delicious.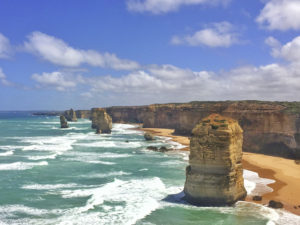 We caught up with the Breen who took us to some amazing bars, and for a superb breakfast at St Ali before we made our way home.
We'd never spent much time in Melbourne before. It was great to wander around for a few days, checking out the Queen Victoria market and art galleries. We also made it down the Great Ocean Road to see the Apostles too.
Coming back to the UK was painful. Not least because we were both unemployed… (see below).
UK and Europe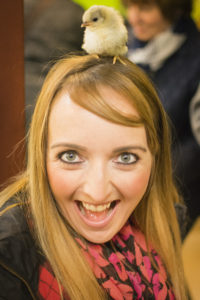 Other long weekends that we were lucky to take this year included:
the Cotswolds where we caught up with my family for a couple of days at Easter. We took the kids to the Cotswold Farm Park, which was pretty cool. It was spring and a good time to see plenty of baby animals – see the deranged picture of my sister with a chick on her head…;
Venice with Gee and Kunal for my birthday;
Gothenburg with Gee and Kunal for Gee's birthday;
Mallorca where we relaxed by the pool and had some great seafood;
Malta (where it was gloriously sunny in Valletta but depressingly stormy, cold and rainy during the latter part when we were hoping to relax by a pool…);
New Forest at the amazing Lime Wood Hotel, (where you can easily spend a huge amount of money, but one of the best places we've stayed nevertheless). The hotel breakfast is probably the best I've had and the food at Angela Hartnett's restaurant was delicious; and
Christmas Markets in Vienna and Salzburg with Kunal and Gee, (despite almost not making it…).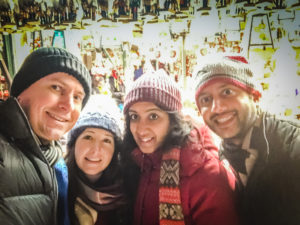 NYE
We were hoping to make it to Oz in January but Andrew couldn't get enough time off work.
Excluding time spent with family and friends in Oz, Andrew and I haven't been away for more than a long weekend together for over 2.5 years. I guess that's the downside of contracting – having no annual leave you have to use, and knowing how much money you're losing when you take time off.
We're both pretty exhausted from the last couple of years and ended up booking a shorter trip to relax. Hopefully it will be warm with sunshine, palm trees and coconuts 🏝 🥥 ☀️ I'm looking forward to it. It will be good for us to have a break.
Andrew's Family
Andrew's sister, husband and two kids came over on a week's notice for a month's holiday in June/July to escape the Nepali monsoon. Andrew's other sister Karen also came over from Oz since it was a good opportunity for her to see us and kids too.
It was good to see everyone although they were all staying with us, and we don't have the biggest place – a 1.5 bedroom flat in central London.
Ordinarily, this would have been fine, but we did have a lot of stressful stuff going on at the time. It was a bit of a squeeze having 7 people living in a small space.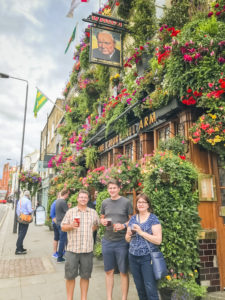 I had work commitments, and tickets to a few events that had been booked a while ago when they were here. As a result, I didn't get to spend as much time with them as I would have liked. Things got easier when we spent a long weekend in a cottage in the New Forest where everyone had their own room and more space. We took the kids to the coast and to Moors Valley Country Park which was cool.
I've always felt like I got on with my in-laws but did find it difficult when everyone was over, especially as we are all very different. It was good to see them but I had a lot going on and they were here for a while, (we had people staying with us for 5 weeks). I found it tiring and don't think I communicated very well during that time.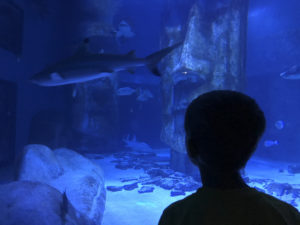 Ultimately, it was great to see them and we had at least one day out with the boys in London which was cool. We took them to the London Aquarium which they enjoyed, and to the cinema to see Despicable Me 3 and Cars 3.
My family 
I didn't see my family as much as I would have liked this year.
I didn't make it up to Wales for lots of reasons, and missed seeing my brother's son, Isaac who I adore.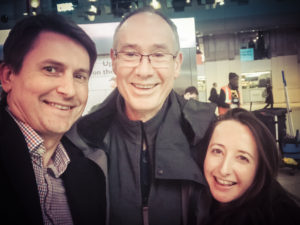 Fortunately, my uncle came to visit when he was over for a veterinary conference, and my mum and sister came down a few times for lunch.
I love having my cousin Laura living in London. We enjoyed catching up with her a few times, and her brother, Wyn, and his girlfriend, Emma, when they were also in London. (Wyn is one of the smartest people I know!) I got to see their parents a few times too. They're always very generous and insist on paying whenever we go for a meal no matter how many times we've surreptitiously paid the bill.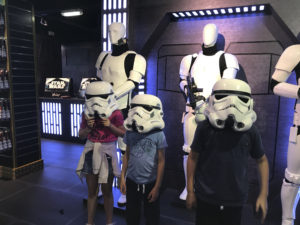 My cousin, Sarah, brought my God son, Owen, and his brother, Harri, and sister, Ffion, to visit for the first time which was awesome, and I got to take Owen, and Harri to Hamleys. I rarely get time to spend with them, so this was really important to me.
My sister brought her kids down twice and my brother also came down for a few hours. I was fortunate to get to Wales for a couple of days over Christmas. It was good to see everyone especially my nieces and nephews, and a couple of cousins who I rarely see.
Cultural Stuff
I don't think I did anything cultural in 2016. This year I got to go to a few events and felt like my life was getting back to normal a bit:
Film
I enjoyed watching a lot of films, at home, and in the cinema, especially when all the Oscar nominations are out – I enjoyed La La Land (the opening scene is outstanding), and Lion.
I managed to get tickets for Star Wars:The Last Jedi, Blade Runner 2049, and Dunkirk at the IMAX.  I love the IMAX! I love how big the screen is and the sound is phenomenal!
We finally made it to the Electric and watched Battle of the Sexes which was great. I'd never been to a cinema with couches and comfortable seats like that before.
I also managed to get tickets to a great documentary at the London Film Festival – AlphaGo with a talk by Demis Hassabis, which was brilliant.
Live Music
Gee got given tickets for Adele at Wembley for what turned out to be Adele's last concert for a while. I've always wanted to see Adele and was pretty touched when I was gifted one of the tickets.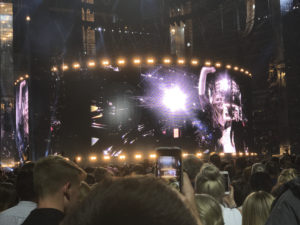 We also got last minute tickets to see Future Islands at Brixton which was good.
Art Galleries and Museums
I loved the Pink Floyd and the Revolution exhibitions at the V&A. Both were sublime and nicely executed with the immersive music features.
I got to wander around the Natural History Museum with my nieces and nephew, and caught the Wildlife Photographer of the Year exhibition.
I checked out the Basquiat exhibition at the Barbican. I wasn't familiar with Basquiat's work until recently. I love how colourful his art is.
Television
I don't usually watch TV. However, this year I got stuck into Narcos. Seasons 1 and 2 are amazing. I also enjoyed Silicon Valley; Veep; the latest Modern Family; and The Crown (from which I learnt a lot about British history and the Royal Family), and became obsessed with SNL clips on YouTube which I find hilarious.
Comedy
I went to see Tez Ilias and Fin Taylor at the Soho Theatre which were great. We bumped into Nish Kumar, Gee's favourite, (he performed at her hen party), and his mate Lloyd Langford – both are awesome guys.
Theatre
We went to see Harry Potter and the Cursed Child, (the staging is amazing), and I really enjoyed the Ferryman (superb acting). The James Horner concert and Carols at Candlelight shows at the Royal Albert Hall were great, and I managed to buy Hamilton tickets  for an insane amount of money. Everyone raves about Hamilton but I'm still perplexed as to how anything can be that good!
Books
I read a lot. You can read more about my favourite books of this year here.
Escape Room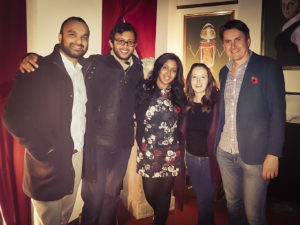 I finally got to experience an escape room (The Celestial Chain) with Gee, Kunal and Munish. It was heaps of fun and really well set up! We managed to escape and somehow ended up with one of the highest scores. We must be more intelligent than we look because we all thought we'd done pretty badly!
We've spent a lot of time with these friends this year. They've been immensely supportive and I love it when we all hang out together. To me they are like family, and I love them all very much.
Other Events
I went to a couple of panel discussions set up by The Spectator which were interesting. The first focussed on the future of healthcare. The second on blockchain and how technology can improve our health. Two topics I care a lot about.
I also went to a talk by Demis Hassabis at Google Campus. Demis is a legend in my eyes. I love how down to earth, intelligent and interesting he is.
Spas
I love massages.
I think I've fallen in love with every masseuse I've ever had, (apart from one who pounded me with hot rocks for a tortuous hour and a half… It was a bad day… I walked home accosted by a homeless person who was in a bad way in a neighbourhood that often triggers poignant childhood memories – I burst into tears when I got home that night…).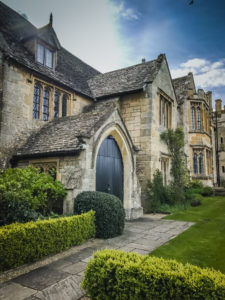 Massages are expensive but they are relaxing. This year we splurged on going to the Hyde Park Four Seasons on each of Andrew and mine's birthdays. The spa there is segregated, so I missed chilling with Andrew, but I've always had the place to myself, which has been super peaceful. It's not huge, but has a dry sauna overlooking Hyde Park, and a decent steam room and jacuzzi. I've had two of the best massages of my life there. The masseuses seem older and more experienced than at anywhere else we've been.
The spa at Ellenborugh Park in the Cotswolds was alright, although not very well maintained. Compared to other places we've stayed, it was expensive and overrated. It was busy and there were dirty footprints, used towels and empty plastic cups left all over the spa, (what can I say when one is used to the Four Seasons…). All the staff we interacted with seemed to be under 18 too. Fortunately our massages were pretty good and I loved the outdoor heated pool.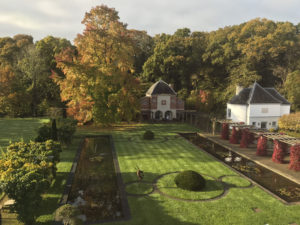 The Lime Wood in the New Forest was excellent. I love how the staff are so relaxed and laid back, and uber polite at the same time. We'd been trying to book a stay in their cheapest rooms for years, and finally got a weekend at the end of October. The spa is one of the best I've been to, and our massages were great. (If you can't get a room at the Limewood, you can always stay elsewhere, (like their sister hotel The Pig), and visit the spa for the day).
We ended the year with a visit to ESPA at the Corinthia. I loved the decor. The treatment rooms reminded me of Blade Runner 2049 or Star Wars. It's nice but very busy and the thermal floor is uber expensive for what you get – not sure if I'd go back.
It's funny how spas vary. A good friend of mine paid a lot for a massage recently only to be talked through the masseuse's relationship issues before being asked for legal advice and opinions on divorce for an hour. That is not relaxing!
Food and Drink
I love going out, even though I should be taking it easy.
Expensive
I took Andrew to Zuma for his birthday. It's like a Japanese restaurant in a club. I love that vibe, but it is loud and not for everyone.  The food is good and you can watch business men try to serenade 6 foot Russian models which is always entertaining.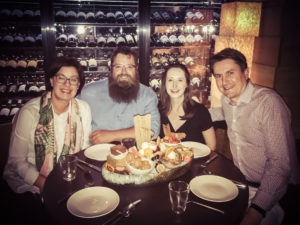 We took Adrian and April to Roka, Zuma's sister restaurant, when they were over from Oz for a couple of days. It was great to see them. (hey are good friends, and I wish I could see them more often. The food was good and it wasn't as loud as Zuma.
I'm not a huge fan of Michelin cuisine. I've been fortunate to visit some great restaurants over the years. Le Gavroche (sublime French food) and Heston's Fat Duck and Dinner stand out.
I find most Michelin star menus a bit samey and overpriced regardless of the cuisine or number of stars.
Still, we went to Locanda Locatelli's for Valentine's Day which was lovely. I do love Italian food.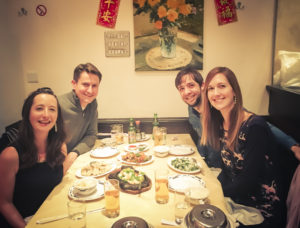 We had dinner with Emily and Grant at the Shard's Huton for Emily and mine's birthday, (our Chinese New Year buddies). The decor and view was cool. The food wasn't bad, but extremely expensive, and service could have been better.
Hunan in Belgravia is still my favourite Chinese restaurant in London, although I haven't been for a few years.
We took my mam and sister for a few long lunches when they came down to visit. Duck and Waffle (awesome views, food, and staff) was probably my favourite. We also had cocktails at the Artesian Bar in the Langham for my mam's 60th – the cocktails were great and very inventive.
Brunch
It's been good to have breakfast with a few friends this year. (London still has nowhere nearly as good as their Australian equivalents though).
I really like meeting people for brunch. Caravan in Kings Cross is good as are flashier places like the Dean Street Town House in Soho. The restaurant at the Ham Yard Hotel is not bad and neither is the Wolsley. The food is nothing special but the decor at both make up for it.
I always enjoy Dishoom too. A new Dishoom has opened up not far from me so will no doubt be going there so long as I don't have to queue for too long.
Granger & Co is still overrated, but probably still my favourite, and is not far from home.
Favourite Restaurants
I love wandering around the smaller restaurants in Soho and Covent Garden. You can't book many, but several can now add you to a waiting list. So at least you can go for a drink while you wait rather than standing in the rain. (Although I love Soho in the rain – the lights reflect off the pavements and it's very pretty).
One of my favourite meals was at the Barbary. It's the sister restaurant to Palomar, which is supposed to be excellent but I didn't enjoy as much.
If it's just me and one other person, I love going for a meal and sitting up at the bar.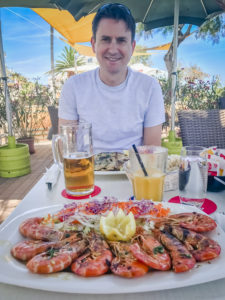 Some other good places I've enjoyed this year include:
Work
I fortunately ended up consulting at NBCUniversal International which has been great, and Andrew ended up at Disney (where I used to work).
I feel very lucky at NBCU. I have a great boss and love my colleagues. I love my office which is in a convenient location for work, shopping, and getting to other places I need to be. I have a desk by the window and everyone I've met has been friendly. I also love the free coffee with the amazing views from the Tenth Floor. The coffee is probably the best I've had in London – the baristas are awesome!
Andrew's contract came to an end at Christmas. Andrew is usually one of the most unambitious and laid back people I know. To be honest, I never felt that he has ever been that proactive when it comes to job hunting. He amazed me this year though. He had some tough interviews, (when we had a lot of other highly stressful things going on), and ended up getting three job offers within a couple of weeks. The guy's amazing!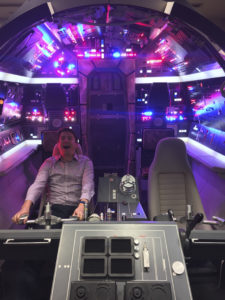 I am really proud of him. I think with all the distressing stuff we've had to deal with over the last couple of years, he's far more confident, and doesn't get worried about interviews in the way that he used to.
Birthday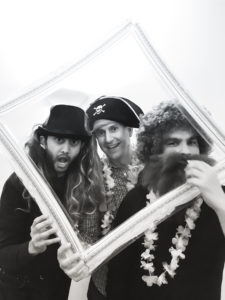 For the first time ever, I had a birthday party. It was extremely last minute at home with everything being ordered online from Amazon and Majestic the night before…
Andrew ended up having to do almost everything on the day as I was pretty ill. Fortunately, several close friends turned up early and helped decorate and prepare food.
I was blown away by the number of people who came on short notice. Frustratingly, I don't think these kinds of functions are for me though.
Maybe it's lack of practice, but I didn't feel like I spoke to anyone properly. I spent the whole night running around like a headless chicken, introducing people, and making sure they had a drink. It was lovely to see people and I really appreciate everyone who turned up, but I in all honesty, I didn't enjoy much of it, (being last minute and our disorganisation probably didn't help either…)…
I love parties – just maybe not my own!
Home
We managed to stay another year in the flat that we are renting. I love living here, and I'm grateful every day that I have such a wonderful place to live.
We also have this fox which sometimes sleeps on the roof in front of our kitchen window.
It's expensive to rent, but the location is super convenient for lots of reasons. It's still a work in progress, but we managed to buy a few rugs, a dining table and some art work which has made it feel a lot more homely.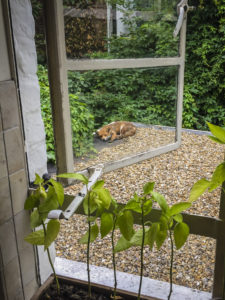 I really hope that we can stay another year here.
Health and Fitness
I went to a few yoga classes, and swam when I got the chance. Apart from that, anything fitness related deteriorated this year. It's partly because of work, plus how I've been feeling.
I was unable to run much this year which got me down.
I've continued to get some psychological support which has been useful. Everyone has issues and it's been good to have an outlet where I can talk to someone without burdening friends or Andrew.
I haven't been the best at meditating this year. I really need to work on getting back into that.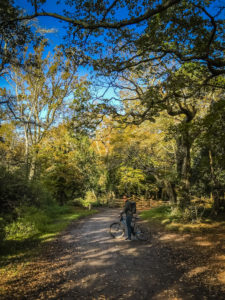 I've maintained a gratitude practice for years now. We all have things to be thankful for even when bad things happen.
Maintaining the practice has a notable effect on my mood. It's always made me feel better about everything, but even that's taken a back seat during the latter part of this year.
Sleep has continued to be an issue too.
I got pretty ill in August which seriously threw me, (also on and off in November and December which was horrible). It took a while to recover which was frightening, and made me fearful of pushing myself, which I need to get over.
My diet was pretty healthy before August and to some extent I feel like I've let myself go.
I really need to sort myself out.
Having said that, I've enjoyed swimming whenever we had access to a pool, and did cycle a bit in the New Forest, with Andrew's family, and also when we went alone in the autumn.
On our second visit, we spent a long afternoon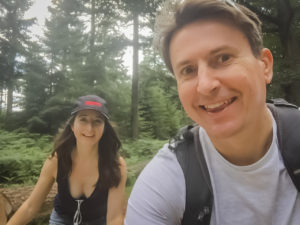 cycling non-stop, over 40 kilometres. We didn't intend to cycle so much, but went the wrong the way…. There were a lot of big hills and the exertion almost killed me, (literally!). We ended up having to ride back through the forest in pitch black trying to avoid wild ponies.
How we didn't get lost or injure ourselves cycling through a severely pit holed forest in the dark is beyond me. At the end, we were both exhausted so decided to stay another night in Lymington.
It was probably one of the best decisions we made. I don't think Andrew could have  stayed awake driving home. It also gave us a glorious day to take a long walk through a beautiful part of the New Forest before we headed home, catching up with Wendy and Jack and their gorgeous newborn on the way.
Photography and Writing
I didn't edit or work on as many photos as I would have liked this year. I receive a tiny  income from Getty, and know that I could make more if I applied myself.
On the upside, I wrote a bit more than last year, although not as consistently as I would have liked.
The Bad
Work
It took us both a while to find work when we got back from Oz which was stressful and cost us a lot.
We both found good positions but had to take steep pay cuts which was depressing. Any job is better than nothing however, and the quality of the positions we got make up for it in some ways.
I started the year discussing the possibility of joining DeepMind's legal department with the Head of Legal there. There are few things I've ever felt as excited about. A role was published during the summer which looked amazing. I applied but nothing happened. The Head of Legal I'd been in touch with left shortly after. I was gutted, but these things usually have a way of working out somehow.
Security
Since we got back from travelling a few years ago, I've been craving more security. We left a relatively normal life in the UK in August 2013 and tried to return to it in October 2015… Nothing's been the same and I've forgotten what normal life feels like.
When we got back, the idea was to create a more stable existence, and I'd finally persuaded Andrew to think more long term. Things didn't turn out the way we hoped.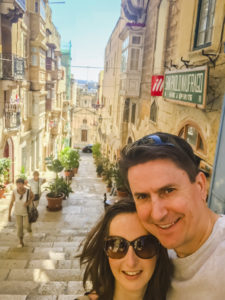 Apart from Andrew and some close friends, I don't feel like I have anything permanent in my life.
Ever since I was a child, I've lived in a very uncertain world. It's always been that way and it's never massively bothered me before but it really got to me this year. This year I really yearned for some stability – at work for the long term focus, and for steady relationships. I am still aching for a permanent position, as well as meaningful relationships.
Friends and Family 
I've felt like half of my relationships fell off a cliff this year. I guess hard times show you who matters.
Friends have always meant the world to me, but I've often been the one who kept in touch with everyone. This year, I haven't had the capacity (emotionally or physically) to reach out, or contact people in the same way.
The result was hardly hearing from anyone. I have a lot going on and have been disappointed and dejected that people have kept their distance.
I understand why. There are a myriad reasons – people have their own lives and issues, and I get that people find things awkward and don't want to think about it. Still, it's been extremely isolating for myself, as well as Andrew.
Ordinarily, it might be fine to not contact someone, or try to catch up for 6 months. When one of you is going through hell though, I think a friend/family in that situation could get in touch now and then.
I find it difficult when someone I considered to be a good friend sends me a blanket "how are you" message when I haven't heard from them for months/a year. So much has happened that I don't know where to start, and I don't know how to respond. 
Andrew and I have always made an effort to visit and keep in touch with family in Wales and Australia whenever we've been up there. It's been emotionally challenging dealing with the lack of support and silence from both sides of the world.
I had a big falling out with some of my extended family around Easter. It was super painful and I was massively upset. It took one of my doctors telling me that whatever was going on was seriously impacting my health for me to let it go. It finally taught me that you can't change people or control how they respond to things. You just have to accept them for who they are. Even if that's painful.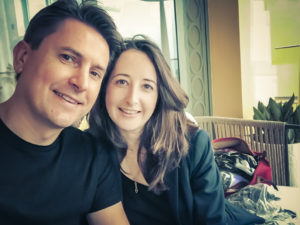 The friends and family dilemmas have been a big wake up call. On reflection, it's always been that way – I just never wanted to accept how things really were. Maybe I thought that things could be different, or that I could change things. I can't.
It's certainly made me less tolerant of people, especially those who say one thing, but behave in a completely contradictory way. Something I find perpetually confusing and infuriatingly painful.
The experience has made me less likely to go out of my way for people. I've always been a bit of a people pleaser, trying to do the right thing, making time for everyone, and fitting in with everyone else's plans. Now, not so much, (despite feeling morally obliged and continuously guilty about it… I need to get over that). It's something that some friends and family have been pretty surprised/dismayed at. Sadly, it's created more distance between me and certain friends/family members.
My close friends have always made fun of me for being naive, looking for the best in people, and giving people the benefit of the doubt. I guess I got burnt from that this year.
I know I have a lot going on but I don't generally talk about it, and just want to spend time with people I love, and enjoy their company, like we've always done.
From the beginning, I've tried to clearly communicate how much hearing from people helps, and I've been very honest and upfront with close friends as to what I need, and what I'm struggling with.
I find it excruciatingly difficult asking for help, so that's been really hard. Some friends stepped up and have been amazing, (even from the other side of the world). Others have disappeared.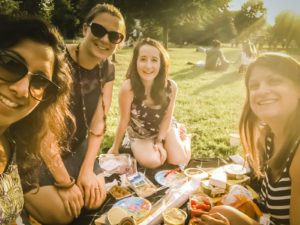 Fortunately, I do have a close group of friends who I'm consistently in contact with, and some family members have been good too.
It still hurts though. I guess relationships and people change, as does everything else in life.
Dealing with all of this in addition to everything else this year has been a complete head fuck.
It's made me question my judgement of people and relationships. I'd query whether I'd been a good friend/family member in return. Maybe I hadn't given enough? I was out of the country with intermittent email contact with people for a couple of years after all… Plus – we can always give more.
It made me wonder whether or not I was a good person. Some days I felt like I was going crazy.
I really don't understand pretty much anything when it comes to relationships at the moment.
My world is very small right now. Rarely does anyone show up or want to be a part of it. I understand why, but the psychological impact doesn't make it easy.
I've always been very social with lots of friends and I hate the loneliness and constraints I'm having to work within.
Andrew
I've put Andrew through so much adversity again this year.
Andrew is the most sensational and wonderful man ever put on planet earth, and I feel insanely lucky to have him in my life.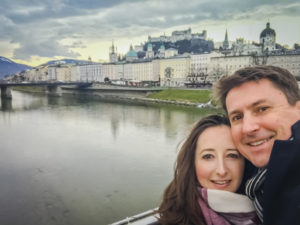 He does a huge amount in terms of our daily life together, and has to handle a colossal amount of pressure.
His life is on hold in so many ways, and he's had to deal with several extremely stressful situations because of me.
I'm conscious of the negative impact I'm having on Andrew's life. I find it soul destroying. 
Putting the person you love more than anything in the world through so much hardship is horrific. Every day my heart breaks a bit more and I struggle with justifying whether or not to go on. I love him so much. ❤️ 
Ideas
I had some crazy ideas which I enjoyed thinking about over the summer, and researching in October. Unfortunately, since they rely on other people being involved, I'm not able to develop them further. I knew this was the case but it still made me sad. At least I learnt a lot.
Politics
NHS
The NHS is great but still winds me up. The system is archaic and old, less concerned with patient's best interests, and more on controlling liability.
Some doctors are phenomenal and kind with the courage to be compassionate. Others struggle, (they are human after all), and some, I don't understand at all.
Still, I've met some amazing doctors and nurses in my dealings with the NHS, especially one astoundingly great doctor I met early this year who has been a tremendous source of support.
So many doctors and nurses are incredible people who do an outstanding job under very difficult circumstances. They're underpaid and overworked, and it pains me to see the government screwing them over.
Brexit
I get so angry over Brexit. (My new past time every Sunday morning is to watch Andrew Marr and swear at politicians…).
Brexit is a complete waste of trillions of pounds, paralysing Parliament and using up hours that MPs could better spend on worthwhile causes.
It's a suicidal move which will have colossal implications for everyone.
If you think there's not enough public funding to go round now, you ain't seen nothing yet. So many people and institutions are going to suffer and we need to start preparing for the consequences now.
It's a fiasco. No one knows what to do, and it's causing massive uncertainty, which can only have a negative effect on the economy.
I also don't understand how anyone can follow through on a referendum campaign based on lies.
I worry that most people who voted for it, (the ones from poor and disillusioned areas), are the ones that are going to suffer the most.
Please can we have another referendum and stop the whole ridiculous thing. There is no legal reason why we can't.
Commercially, I've worked on complicated billion pound deals which have taken months, sometimes years to complete, (not to mention millions in legal fees and an absurd amount of so many people's time). Figuring out the complexities represented by Brexit is on another level, (40 years worth of legislation…). The notion that it can be sorted in a couple of years is preposterous.
People are angry about immigration – Brexit will not stop immigration. We need immigrants! Our whole healthcare system (national and private), and loads of businesses rely on them.
If we come out of the single market and have to forge trade deals with other nations Britain will be doing so alone, from an extremely weak bargaining position, (some cities in China are almost as big as the UK). There is no way that we will have the economic clout to negotiate trade deals which are on par or stronger with what we currently experience as part of the EU.
Also, part of those trade deals will inevitably include the UK having to grant a number of visas for people from these trade deal countries which means that immigrants are always going to be here, (and for all those racists out there, the majority of our new immigrants won't be white or from Western countries either).
I know of lots of companies who are moving whole departments offshore, meaning thousands will lose their jobs.
It's also generally expected that the pound will crash as it did as when Brexit was announced, (farewell cheap holidays abroad).
A few lawyers I've spoken to told me that the property and M&A market did pretty well when the pound initially crashed. Interestingly, 80% of those deals were selling properties and companies to Chinese buyers and Arabs from the Middle East. If Brexit means selling off the country's best assets, that's not taking back control.
(Some commentators believe that wealthy Chinese are keen to get money out of their country in preparation for the inevitable squeeze caused by the one child policy. Meaning that in a China there won't be enough people or state money to support China's ageing population which could have huge consequences on China's economy. Many Middle Eastern countries are also desperately searching for a way to compensate for the inevitable drying up of their oil reserves and are looking for alternative income streams in other countries.)
US Politics
Donald Trump is insane.
On the upside SNL has been amazing!
Tragedies
There have been so many tragedies this year.
I know of so many great people who have passed away.
In the UK in particular, Grenfell Tower, the Manchester bombing, and the London attacks stand out. I find it hard to get my head round all the people who died. Events like these really got to me this year.
One minute someone is here, the next minute they're gone forever.
Life is short.
None of us know when it's going to end. Which is why it's important that we spend time with those we love, and practice kindness, and compassion as much as possible.
I hope 2018 is a good year for everyone.